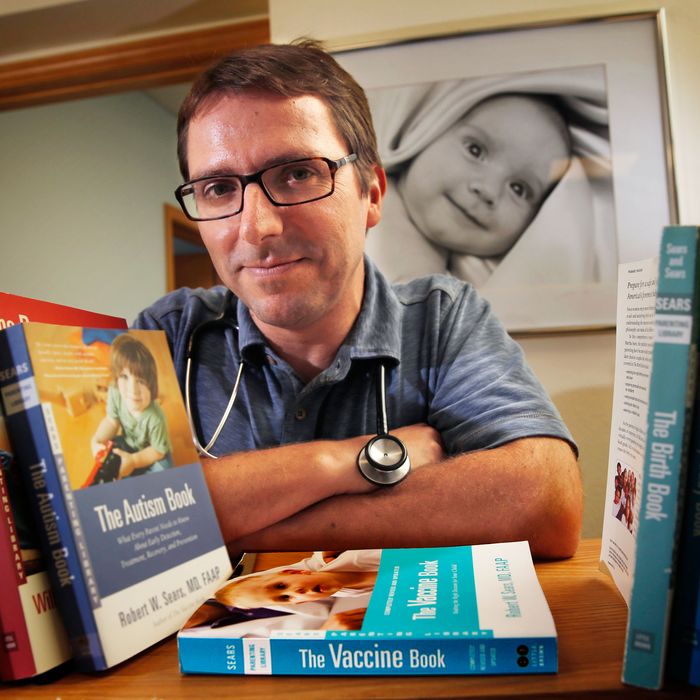 Photo: Don Bartletti/LA Times via Getty Images
Dr. Bob Sears, 47, of Orange County California, is named in a complaint filed Thursday by the state medical board of California, which charges him with "gross negligence" and failing to properly care for a toddler, one of his patients. According to the Los Angeles Times, if found guilty, Dr. Sears, who is part of a famed family of pediatricians, could lose his license to practice medicine.
The complaint alleges that Dr. Sears wrote a letter exempting a 2-year-old boy from any further vaccinations after his mother complained about unsubstantiated claims of adverse side effects the boy suffered from previous vaccinations. Dr. Sears, who had not attended to the boy for these vaccinations, failed to conduct medical examinations necessary to corroborate any side effects the vaccines might have caused, the complaint says.
Side effects of vaccines can happen, but they are fairly rare and tend not to be very severe. Dr. Sears is the author of The Vaccine Book, which famously introduced an "alternate" schedule of vaccinations that fails to comply with the schedule recommended by both the Centers for Disease Control and the American Academy of Pediatrics. Dr. Sears has said that the best seller offers a schedule parents can be "more comfortable" with, though there is no benefit to adopting such a different program, and indeed it is more likely to make vaccines less effective overall.
Anti-vaccine advocates have long contended that vaccines, in addition to harmful side effects, are linked to autism, a claim that has been thoroughly debunked (though not to the satisfaction of Dr. Bob Sears's brother Jim, who stoked the fires of disbelief in a controversial anti-vaccine documentary, Vaxxed, which alleged conspiracy at the CDC). Bob and Jim's father, Dr. Bill Sears, is another famous pediatrician, author of the mega-best-seller The Baby Book, and though he has long maintained he is pro-vaccine, he has often made comments which suggest his stance on them is flexible.
The state of California, in the face of rising rates of unvaccinated children, recently passed laws disallowing personal-belief exemptions from vaccinating school-age children, which were historically used for religious purposes but in recent years have been more widely taken advantage of by anti-vaxxers. Dr Sears, the medical board alleges, placed the life of the child and the public in danger when he exempted him from further vaccination.