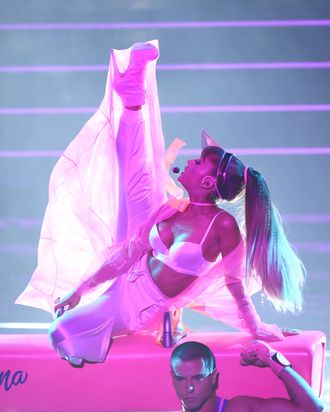 Ariana Grande at the VMAs.
Photo: Michael Loccisano/Getty Images
Ariana Grande and Mac Miller haven't exactly been trying to hide the fact that they've been dating. The two have been spotted cozying up for weeks now, never mind the paparazzi nearby who've documented every move of their budding romance.
Now, though, it looks like Grande has given her new beau the Instagram stamp of approval (he'd already cameo'd in her Snapchat). On Tuesday, Grande posted a photo of her quite literally wrapping her legs around Mac Miller. Oh, and in case you were wondering whether that's the latest friend-hug, she captioned the photo, "baabyy."
The new couple has done plenty of couple-y things so far, like having dinner at a sushi restaurant, taking a walk in New York City, and watching the MTV VMAs together. They also teased their relationship again when they remixed Ari's single, "Into You." Clever, you two.
Their new romance comes years after the two first made out in the music video for their single together, "The Way." Back then, Mac Miller called the rising singer simply a "homey." These days, Ari's belting out songs with Nicki Minaj about the soreness that comes with having too much sex. Time changes everything.