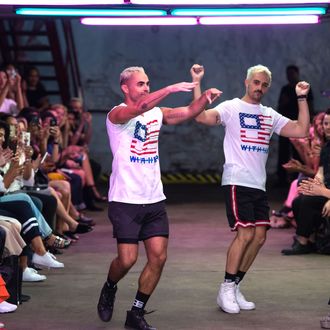 John Targon and Scott Studenberg of Baja East.
Photo: Imaxtree
Fashion makes strange bedmates, and perhaps no two were stranger this week than Baja East and the Minions. The post-gender brand drew inspiration from the tiny yellow creatures for its Spring 2017 collection — a move that Scott Studenberg and John Targon, the architects behind Baja East, swear makes perfect sense. "The Minions are mischievous and love to travel, and so are we," explained Studenberg.
The minions collaboration was just one of three to launch over the course of the week. The duo teamed up with subscription-wine service Winc to debut Thirsty, a "Cabernet Sauvignon-Petit Verdot blend," and M.A.C. to set forth signature packaging for "Impassioned," a bright, almost-bubblegum pink.
For the lipstick, Studenberg and Targon created two sets of sleeves to wrap the tubes: a tiger print that Studenberg deems "psychedelic," and a cascading palm print. From start to finish, the process took a month. "We wanted it to be super tropical," Studenberg remarked. Adding: "We wanted it to ooze humidity and sexy, drippy sweat."
In the end, the team went for a shade that could speak to anyone. "We wanted to make sure it looked good on every skin tone," said Targon. "Is it fresh? Does it feel fun? Does it feel sexy? It tied into so many different color stories within our collection that it became the perfect color to roll with."