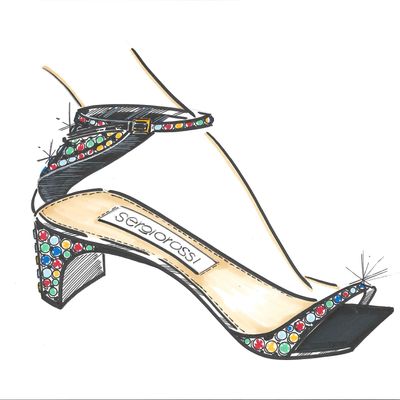 An exclusive first look before tonight's performance.
Photo: Sergio Rossi
Ballerinas will model Sergio Rossi's new shoe collection at Milan Fashion Week today in the Teatro Filodrammatici, an 18th-century theater and one of Milan's oldest cultural institutions. (Fun fact: Famed opera composer Giuseppe Verdi taught harpsichord here.)
This exclusive sketch is a preview of tonight's collection. Performers will wear Sergio Rossi flats or dance barefoot while the label's new heels are on display. Crafted as a half-moccasin, half-slipper, the new style features shimmering embellishments like tinted glass, baguettes, and mirrors.
Inspired by square silhouettes from the brand's golden era in the '90s, tonight's designs will mark a shift from eveningwear to elegant, comfortable everyday shoes. It's also Sergio Rossi's first collection created under the label's new owner, European investment company Investindustrial, and CEO Riccardo Sciutto.
"I have looked up to Sergio Rossi's original vision and outstanding work to find the true essence of the brand and its DNA," Sciutto said in a statement. "We are ready to write the next chapter of the Sergio Rossi history by maintaining the utmost respect for its heritage and legacy whilst keeping a strong focus on innovation, in order to remain modern and relevant."
(And comfortable!)