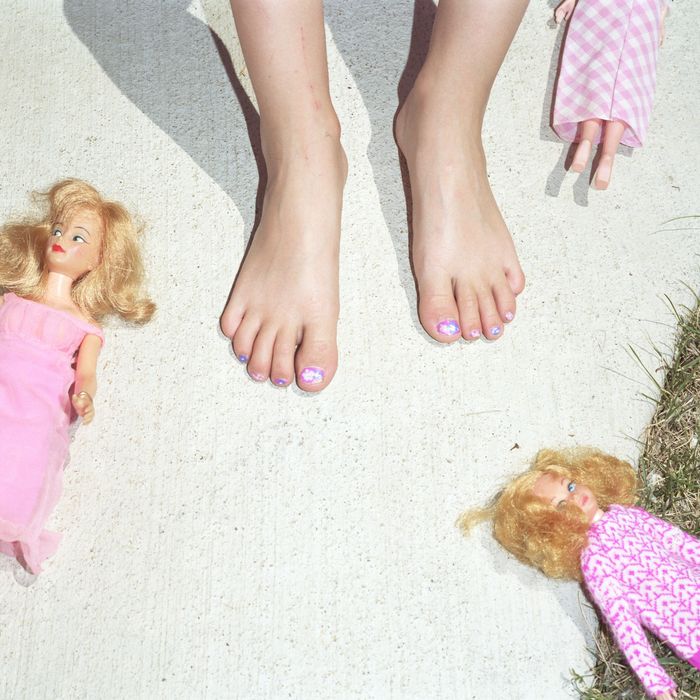 Photo: Mark Hall/Getty Images
Today in news that shouldn't be news: Young girls who play with stick-thin Barbies are more critical of their bodies than girls who play with bigger dolls.

For a study published in the journal Body Image, researchers randomly assigned 112 girls ages 6 to 8 to four groups: playing with thin Barbie dolls or full-figured dolls modeled after the Hairspray character Tracy Turnblad; Barbie and Tracy were either in swimsuits or "modest" outfits. Researchers asked the girls how they felt about their bodies before and after playing with the dolls.
They repeated the experiment with another 112 girls and less-known dolls, one called Stardoll and another modeled after Mimi Bobeck from The Drew Carey Show. These dolls were dressed in the same clothes as in the first portion of the study.

In both experiments, they found girls who played with the thin dolls wereless satisfied with their bodies than girls who played with the curvier ones; interestingly, the dolls' clothing didn't matter. The authors wrote that such body dissatisfaction is concerning because it's associated with strict dieting, which can be a precursor to eating disorders. Though, at the very least,counting calories is a terrible way to go through life.
The study did not measure how long the effect lasted. And it was conducted before Mattel released the new tall, curvy, and petite Barbies in January, which also feature multiple skin tones and hairstyles. We await the onslaught of New Barbie Research to come.