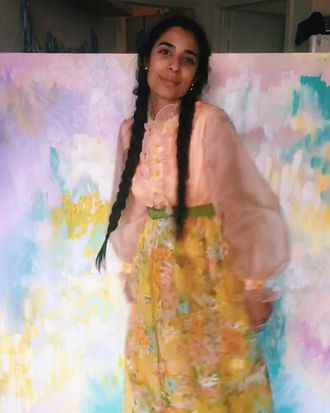 Style Diaries Live is a mini-interview series where we talk to different Fashion Week insiders about their personal style.
Art student Bianca Valle has had more internships than we thought was legal. She also models and just opened her first gallery show. Below, she talks to the Cut about balancing modeling, her Refinery29 internship, her art practice, freelance work, and classes at NYU.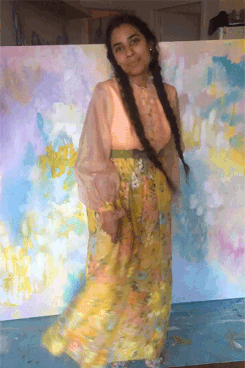 What are you wearing today?
Lately I've been mixing vintage pieces. I like wearing an old T-shirt under a long lace slip and Vans. I'm very excited the weather is starting to change so I can wear real clothes. Overalls with a vintage white tee is one of my quick go-to outfits when I'm in a hurry.
What is your thought process for putting together an outfit?
Today is a very special occasion, so it calls for a special outfit. I have my first art show, and I decided to go vintage tonight. I chose a long chiffon dress. The top is a very pale peach with amazing ruffles on the cuffs and down the front. The colors of the floral skirt match the pastel color palette of my paintings on display tonight. I really lucked out finding this unique dress!
Earliest memory of putting together an outfit?
This is funny because I can remember being in first grade and having to stand my ground about what I wanted to wear to school. Bless my mom. She almost always let me wear what I wanted — except for shorts or a dress in the rain.
If we were to find a stain on your clothes, what would it most likely be from?
I'm sure it would be from ice cream or juice.
Top-three favorite Instagram accounts for style inspiration?
I get inspiration from @Maryam_nassir_zadeh, @the_corner_store, and @cocowarhol.
If I could be a fabric, I would be:
Denim.
What has your involvement in NYFW been like this year?
In the past, I've worked behind the scenes at Fashion Week, and I thought that was really fun. Then I got to cover the Alexander Wang show in 2014 and it was incredible. But for NYFW 2016, I did both: I worked behind the scenes and was in front of the cameras, too.
I'm an intern at Refinery29, and they sent me to help take photos of 29Rooms for their Instagram account. Then I was a model for Sandy Liang's SS17 collection at the Standard High Line. This was an amazing, almost surreal, experience! It was great to go to a fitting, and then to be in the hair-and-makeup chair backstage. I was also invited to several parties and was able to hang out with very talented and creative people.
How do you typically stay balanced when you have a jam-packed schedule?
I'm not sure I can say that I find a balance with the crazy schedules I have lately. I just try to keep it all together, but it's not always easy. I'm still a student at NYU's Tisch School of the Arts, and had to go classes during Fashion Week. Just yesterday, I had a four-hour video shoot for Milk Makeup at 9 a.m. and then went to class. This is all a real challenge but I'm grateful for all these amazing opportunities.
Number-one tip for someone new to navigating the fashion or creative industries in NYC?
Try to find a mentor as soon as you can. Reach out to people via social media, too. My first internship was at NYLON TV, and my boss there has been my mentor since then. Look for internships that are close to what you would like to do, and also branch out a little bit and apply to ten total. I did this my first summer in NYC and ended up working seven days a week as an intern at NYLON, as a PR intern with Jill Stuart, and I worked retail at American Apparel. I don't recommend going this hard, because that summer I think I slept a total of 24 hours. But with so many opportunities in this city, it was hard to say no.