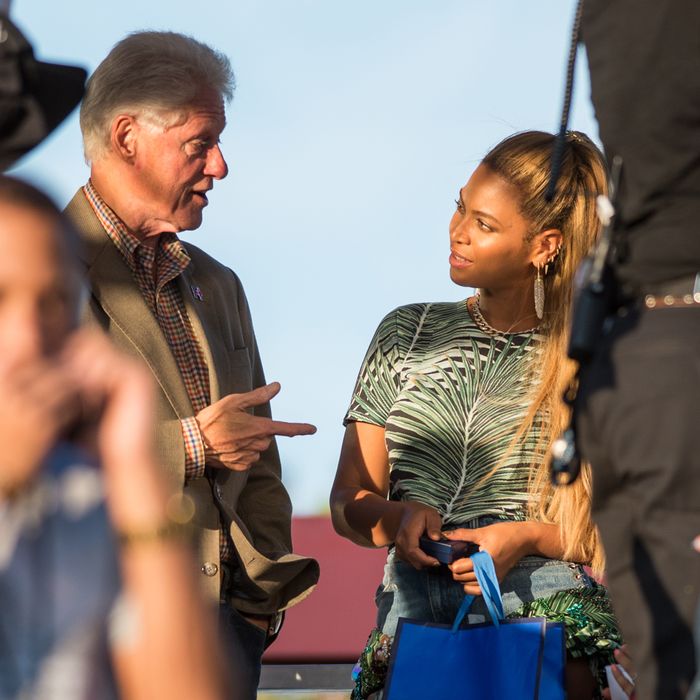 "So tell me about that lyric in 'Partition' again."
Photo: London Ent / Splash News/London Ent / Splash News
There were, as expected, plenty of celebrities at the fifth annual Budweiser Made in America Festival in Philadelphia. After all, Jay Z helped launch it, and what with it being Beyoncé's birthday and all on Sunday, it would have been a surprise had the two not been joined by some of their high-profile buddies. But there's one guest who was a bit of a surprise: the 42nd president of the United States, William Jefferson "Bill" Clinton.
Bill Clinton crashed the festival, leading to stricter security measures all around. The former president spent his time taking plenty of selfies with surprised concertgoers and was supposedly there to help promote iwillvote.com. Sure. But, who are we kidding? We know hanging with Beyoncé and Jay Z at the VIP tent during the concert was the real goal here.
While the former president spoke with Jay Z, Chance the Rapper, Travis Scott, and others inside the tent, it looks like Clinton spent some extra time chatting it up with Beyoncé. (Which, who could blame him?)
Bey, for her part, looked equal parts skeptical and flattered throughout.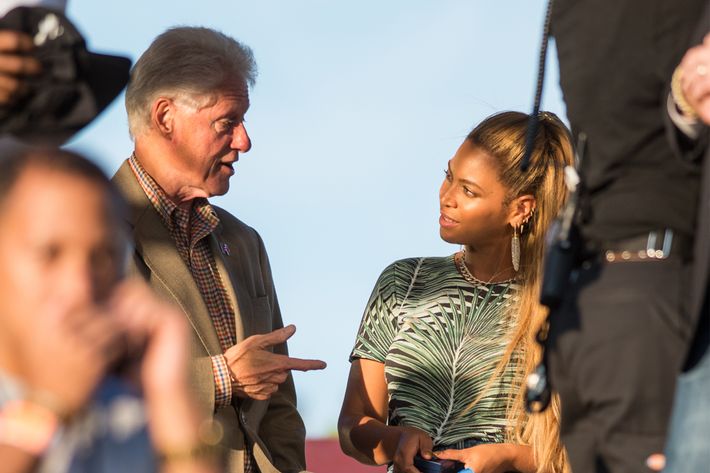 Still, what was the conversation like? Did he wish her happy birthday? Did he offer his interpretation of Lemonade? Did he ask who the hell Becky is? Wait — did he ask about that one lyric in "Partition"? You know, the "Monica Lewinsky–ed all on my gown"? Did it make Bey wish she were back in Maryland with Michelle Obama and the girls?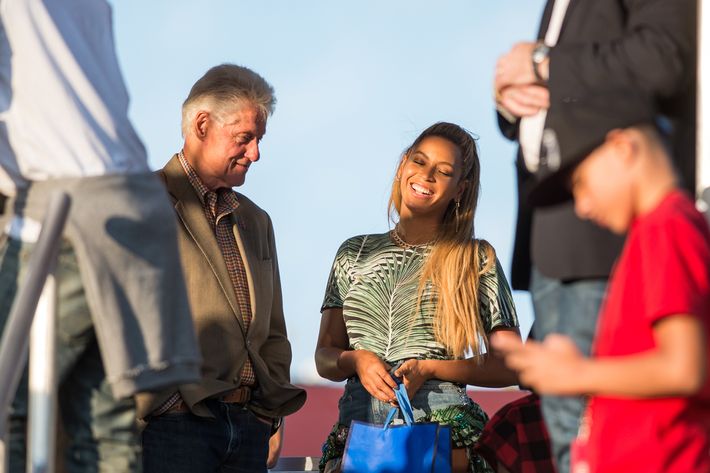 Either way, seems like Beyoncé handled it all gracefully. Phew! And, she had plenty of other highlights at the festival, too. She danced away with Jay Z during a Coldplay set. Chance the Rapper sang her "Happy Birthday." Malia and Sasha were there too. And, she still has her Soul Train–themed birthday bash on Monday. So, yep — Bey's 35th year on this earth is off to a good start.