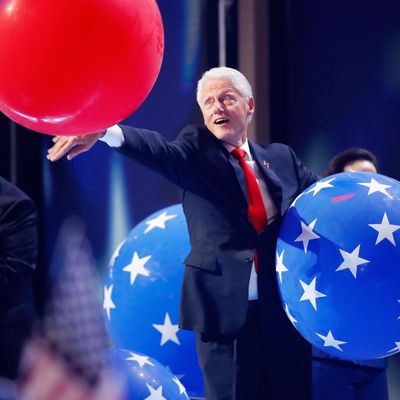 At least he'll have balloons.
Photo: Aaron P. Bernstein/Getty Images
Bill Clinton's 70th birthday party will be a "glitzy" affair, Politico reports. It will costs thousands of dollars just to be invited, and $250,000 to be listed as a "chair," whatever that means. Hillary Clinton's advisers think the party is a "bad idea" because it'll attract more attention to the Clintons' close relationship with their donors. But that is not why I think the party is a "bad idea." I think it is a "bad idea" because it's going to be the most boring party ever.
According to Politico, here's what's going down:
The fundraiser is being held at the Rainbow Room, a fine-dining restaurant on the 65th floor of a Manhattan skyscraper. Plans called for performances by Wynton Marsalis, Jon Bon Jovi and Barbra Streisand, according to people briefed on the planning.

I get it — the man is 70. But if you think for one second that Kendrick Lamar, Jason Wu, Usher, and Jay Z won't be at Obama's 70th birthday party, you're kidding yourself. The least Bill could've done was invite Beyoncé.