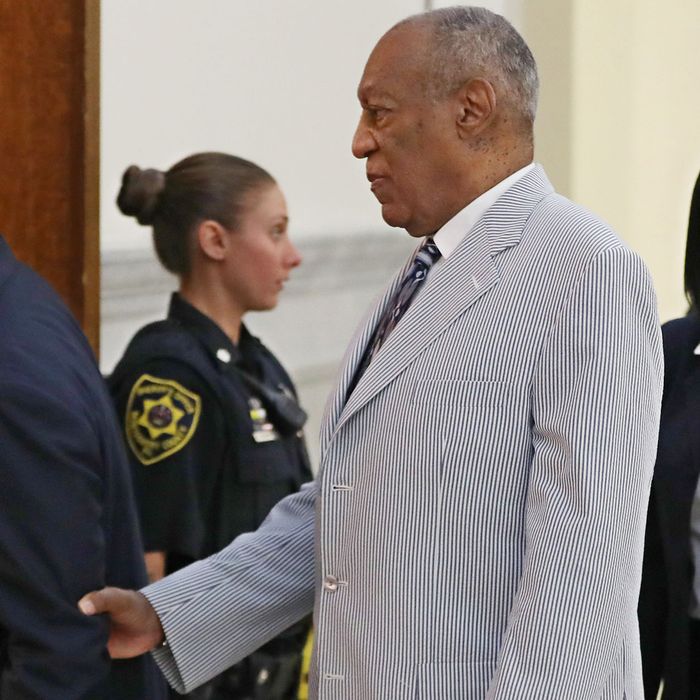 Bill Cosby attends a pretrial hearing.
Photo: Michael Bryant/AP
After attempting to get the case against him thrown out, Bill Cosby is set to stand trial for sexual assault beginning June 5, 2017. Although he's been accused of rape by nearly 60 women, this particular case — which was filed in Pennsylvania — was brought by Andrea Constand, who claims Cosby drugged and sexually assaulted her back in 2004.
In a pretrial hearing Tuesday, prosecutors revealed they'll attempt to put as many as 13 witnesses on the stand to testify against the disgraced comedian, according to NBC. But they're still trying to work out with Cosby's defense lawyers exactly what evidence will be admitted at trial; at the hearing, Cosby's lawyers said the jury shouldn't be allowed to hear a phone call between Constand's mother and Cosby that occurred a year after the alleged assault.
During the call, which Constand's mother recorded, Cosby discussed the drug he'd allegedly given her daughter. "I'm apologizing because I'm thinking this is a dirty old man with a young girl," he said in a 2005 deposition describing the phone call. "I apologized. I said to the mother it was digital penetration."
According to BuzzFeed, Cosby's lawyers argued the call was recorded without Cosby's consent and violated his rights. He also said the court should throw out the call because neither party was in Pennsylvania — where the alleged assault took place — at the time of the call.
Constand was the first woman to publicly accuse Cosby of sexual assault, but in a motion submitted to the court, prosecutors said they interviewed almost 50 women who were allegedly Cosby's victims. "What became clear was that defendant has engaged, over the course of his lifetime, in a pattern of serial sexual abuse," they wrote.
Cosby's lawyers, on the other hand, condemned the media for siding with his alleged victims and for "ignoring" him. "The time has come to shine a spotlight on the trampling of Mr. Cosby's civil rights," they said.