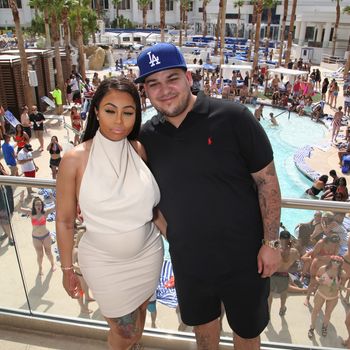 The couple revealed the news on their new show.
Photo: Gabe Ginsberg/Getty Images
We already knew that the Kardashian family tree is growing, thanks to the unlikely love story between Blac Chyna and Rob Kardashian. And while the family has been tight-lipped about the sex of the new baby, any rumors or speculation were finally put to rest on Sunday night. Rob and Chyna are expecting a baby girl.
The premiere episode for their spinoff series, Rob & Chyna, documents the couple's ultrasound appointment. While the show wasn't live, fans still got to experience the surprise of finding out the biological sex along with the couple.
Fans, though, also couldn't help but note how unusual it is to suddenly have Rob Kardashian back and active on social media, especially after deleting some of his accounts and avoiding public outings.
Momma Kris and the rest of the fam — of course — couldn't contain their excitement about welcoming a baby girl. Just look at this tweet:
While Rob Kardashian has been open about wanting a son, he confessed on the show that he's still happy to have a healthy baby. "It's an emotional moment," Rob said on the show. "Me wanting to have a boy, it definitely stems from my dad, but I'm sure I'll have the same relationship that I had with my father with my daughter." He added, "I'm just happy that the baby's healthy and I'm gonna be super happy with a girl."

Congrats to the couple!