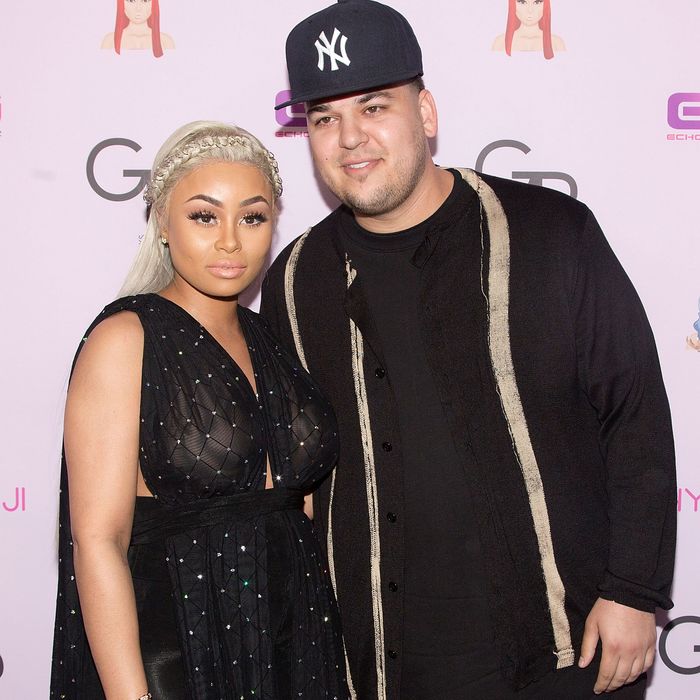 Blac Chyna and Rob Kardashian.
Photo: Gabriel Olsen/WireImage/Getty
A brief moment of panic ensued on Thursday evening among fans of Rob Kardashian and Blac Chyna. Without any warning, Chyna sent out a simple tweet with the words "Robert Kardashian Number," followed by his California-area number. The number is now disconnected, but E! News confirms that it was, indeed, his number.
Speculation, of course, immediately followed about whether this meant that the two were officially done. Rumors, after all, floated this week that they've actually been separated for some time but have kept appearances up for their series Rob & Chyna, which still has a few episodes to go. As it turns out, though, Chyna was actually right next to Kardashian while it happened. In a video shared on her Snapchat, Chyna says to the camera, "To ensure your man is not texting no bitches, just tweet his number out." With a smile, she adds, "How's that feel, Rob?" She then tilts the camera toward him and he smiles awkwardly and adds, "Feels good." (What else is the man supposed to say?) As the phone apparently keeps ringing in his hands, Chyna adds triumphantly, "Get your number changed, thank you."
Chyna must have gotten the idea from her (current? former?) beau earlier this week when he tweeted out Kylie Jenner's phone number. If the two are still on rocky ground, then maybe they can at least bond over the annoyance that comes with having to change a cell-phone number.