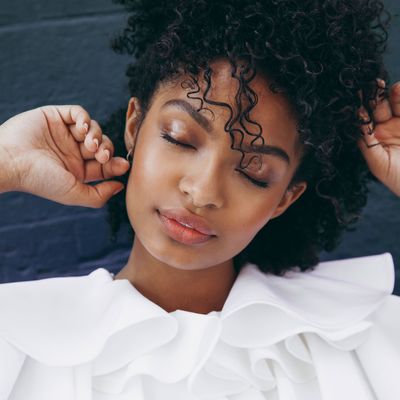 It's easy to forget that Yara Shahidi — teen queen Zoey Johnson on Black-Ish — is only 16 years old. She's been doing commercials since she was a baby, she stars on a hit ABC show, and she's committed to using her platform to challenge Hollywood's bias against women and people of color. She has the schedule, and the concerns, of a woman twice her age, but she's just as eager to talk about Calculus or reading James Baldwin as she is to talk about her craft.
Unlike many child stars, Shahidi doesn't view school as a fallback plan or a chore to squeeze in between filming and giving speeches on philanthropy. As a high-school senior who's currently applying to college, she rhapsodizes about having a place where she can still be a kid. And she's open about prioritizing education above her acting career. "I feel like my love for acting hasn't been singular," she says thoughtfully, "because it stems from this idea of my love of learning people in general."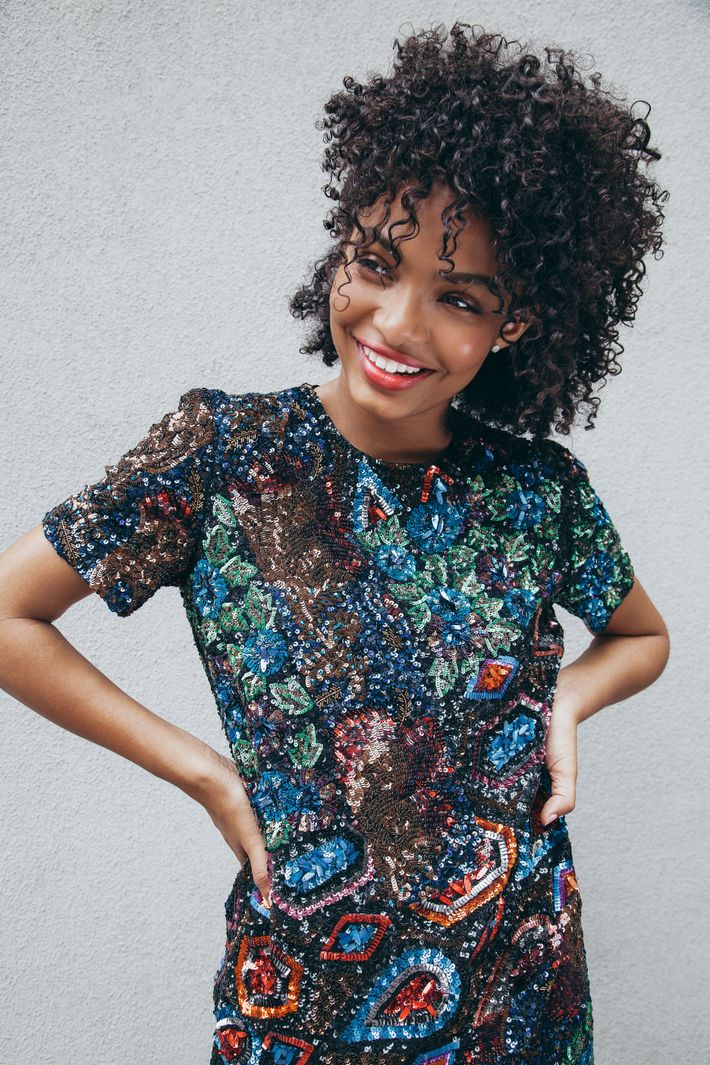 Burberry Prorsum Dress, price upon request at Burberry
Shahidi can't remember a time when she wasn't on camera. Her first print ad, for an insurance company, ran when she was just 6 weeks old. That might explain how she's able to be so grounded about her role on Black-ish. "When Black-ish came along, I loved the satirical script and the pilot, but I didn't even realize the commitment of a series regular until we started," she says. "And now that I'm consistently working on a comedy and living vicariously through my character, I'm already thinking about other characters that I want to play."
Since she's obsessed with detective shows, it's not hard to picture her in some kind of Nancy Drew reboot. But she's well aware of the challenges she faces as a biracial actress. "There are so many roles where you have to fight to even be seen. And it's insane that you have to say, 'Hey, people care enough about me to go see a movie starring me. People care enough to see me on the cover of a magazine.' But you're not doing me a favor by checking off some diversity box when you cast one person. It's about honestly saying, 'We're going to look at everyone as equals and understand the inherent disadvantages that minorities have, because we didn't all start on the same playing field.'"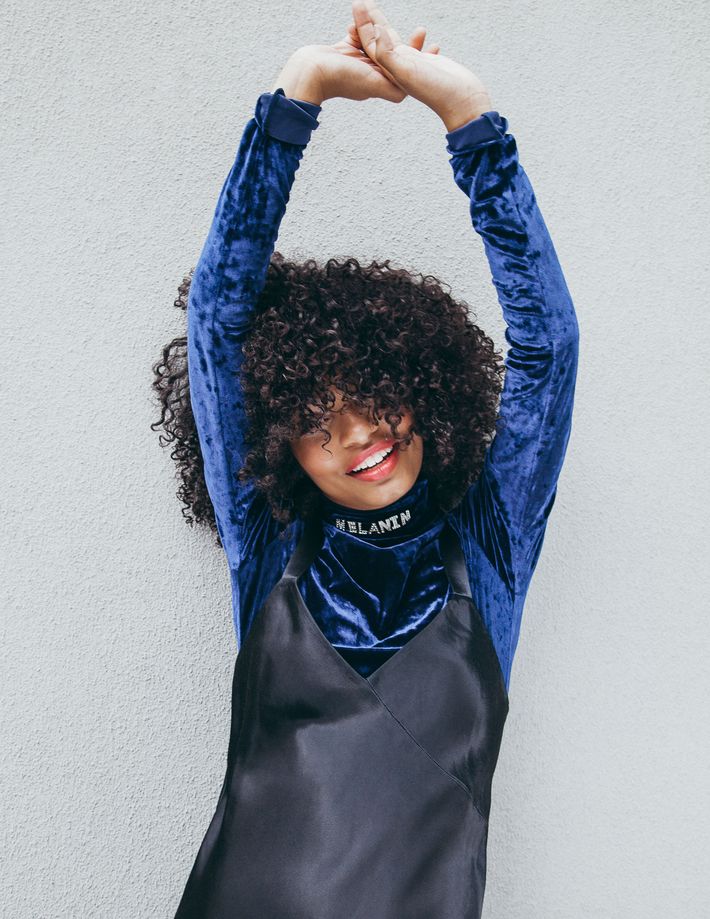 Tibi Dress and Turtleneck, price upon request at Tibi; custom choker by Lynn Julian at Velvet Chokers
Shahidi knows how much influence she has with young women. She's part of a new era of ABC shows, like Black-ish and Fresh Off the Boat, that talk about serious cultural issues in a lighthearted manner, and like the latter show's Constance Wu, she's grateful for the opportunity but keenly aware of how unusual it is.
As an African-American and Iranian woman, she says, "My race is a huge part in forming who I am, and it gave me this rich heritage that I am grateful for, but there needs to be an understanding that you cannot then put me in certain boxes, or tell me what I can and cannot do — or what my peers can and cannot do — based on these pieces of identity."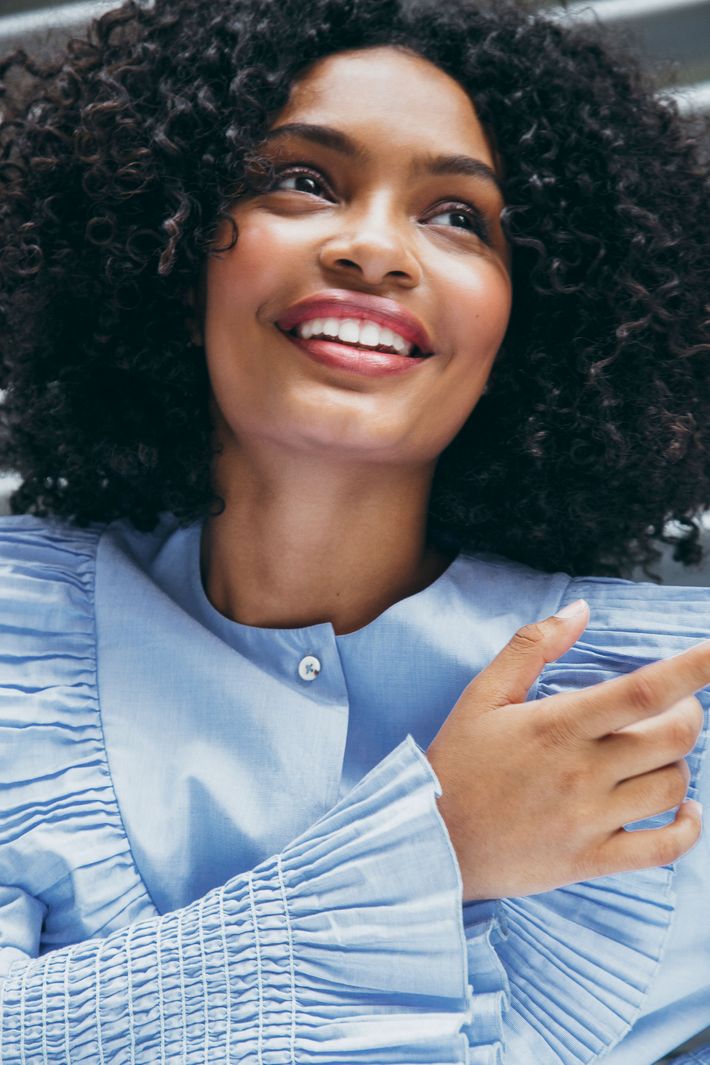 Trademark Blouse, $298 at Trademark
But being a role model comes with a lot of scrutiny, especially for African-American women, who must negotiate between Hollywood beauty standards and the pressure to be "black enough." In a recent Glamour interview, Amandla Stenberg said, "I still have moments once in a while where I feel the need to conform, but that's also not really my—those are not my original ideas, like I don't really feel that inside. It's just when you look around and you see people with straight hair in media, you kind of feel the need to fit in, so it's kind of a constant battle loving my hair. It's something that I'm continuously working on."
Shahidi agrees that it's a complicated issue. "I have natural hair and have always embraced it," she says. "The first time I straightened my hair I was 11, and it was only because I was getting a haircut. And I thought, Oh, I like this! I'll keep it this way, and did until I washed my hair. I know how culturally significant hair is because curls are representative of my people, but I'm also a teenager who wants to experiment with hair and see what it looks like in a different way without being viewed as a sellout."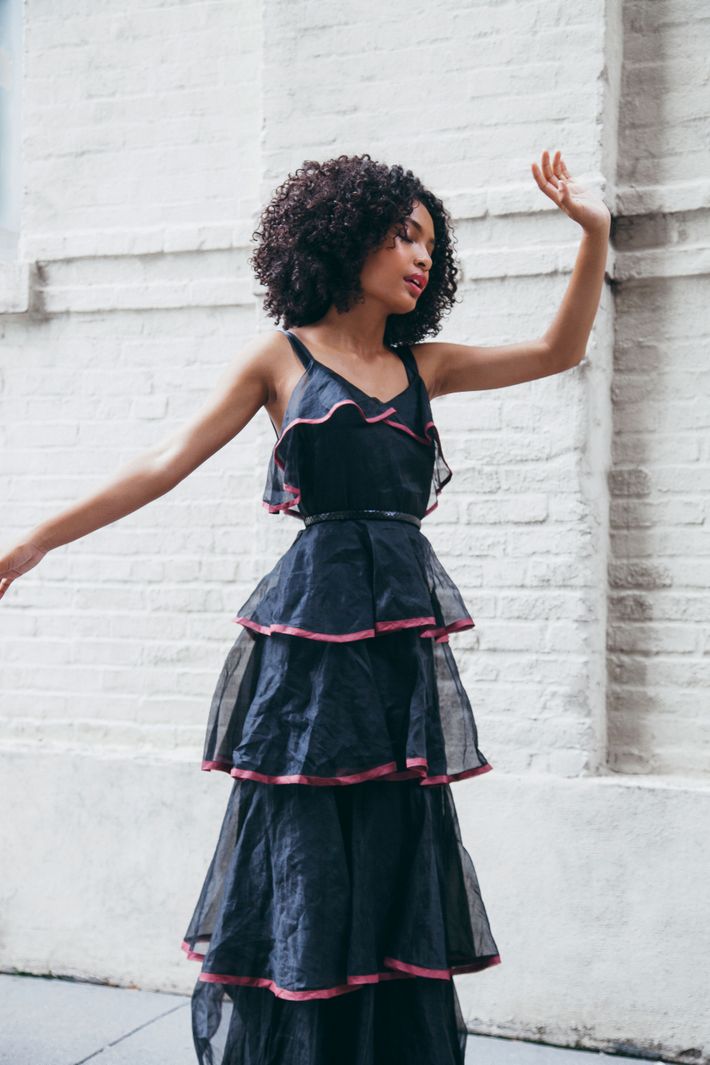 Jill Stuart Dress, price upon request at Jill Stuart
While shooting in Florida, she got cornrows, which made her start to think about the whole "boxer braids" phenomenon. "I was explaining to someone the other day, we're not complaining about this 'boxer braid' term for the sake of being sticklers. Just can you please embrace the fact that black culture contributed to things?"

At least she has a television mother, Tracee Ellis Ross, who went through the same thing as a young woman in the spotlight. Shahidi, who calls Ross a style icon, insists she's determined to have fun with the attention, especially when it comes to fashion. "Being 16, I love playing with fashion. One time we had a call time at 5 a.m., and Tracee pulled together this incredible outfit that theoretically shouldn't have worked, but she slayed! I want to try a killer pantsuit. And I think I want to do purple eye shadow at some point because I love the color purple. Let's throw some glitter in there, too. Why not?"

Shahidi seems to have it all figured out. But she would beg to disagree: "As a teenager, I have no clue who I want to be or what I want to do with my life. I have an idea, but I'm evolving."
Lead image photo credit: Cushnie Et Ochs Top, price upon request at Cushnie et Ochs. Hair by Noelle Reid-Killings, makeup by Samantha Lau, photos by Adrienne Raquel.