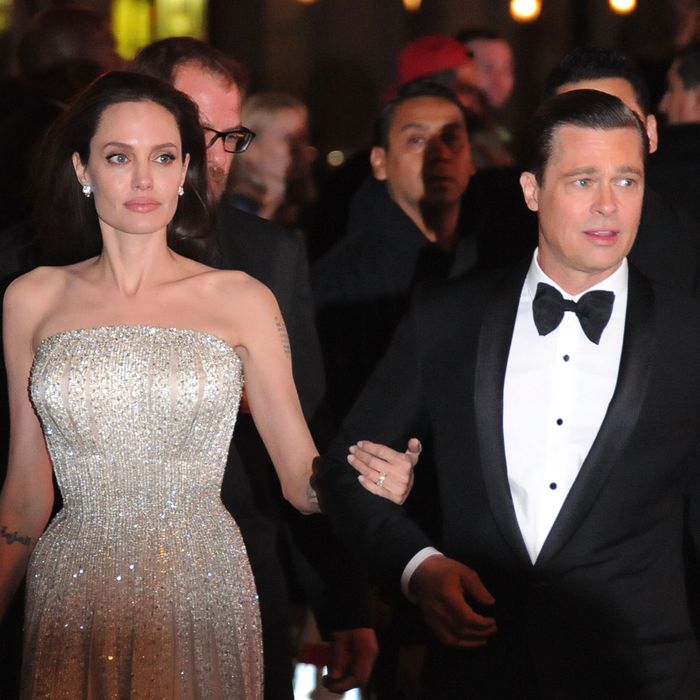 Photo: Barry King/Getty Images
The latest news out of the 24/7 Brangelina Divorce Machine is that it's "highly unlikely" the FBI's investigation of the incident between Brad Pitt and Maddox Jolie-Pitt will result in prosecution for the actor. The incident, which took place on the family's private plane, was allegedly the triggering incident for Jolie's divorce petition.
According to TMZ's sources,
With the conflicting accounts of what happened between Brad and 15-year-old Maddox 30,000 feet above the ground, there's no way to conclusively prove Brad intentionally inflicted harm on his son … It appears Brad made contact with Maddox somewhere in the vicinity of the shoulder area. The biggest issue — whether it was intentional or inadvertent. It's the job of prosecutors to prove it was intentional, and we're told that would be extremely difficult.
Meanwhile, E! has a variety of sources that have described the incident as "a parent/child argument," the sort of event "that sometimes occur(s) between teenage boys and their father," and "a very normal family argument." Except, you know, it was on a private plane and made international headlines.

The Los Angeles County Department of Children's Services is investigating, but TMZ is reporting that the DFCS hasn't found any physical evidence on Maddox of the incident.