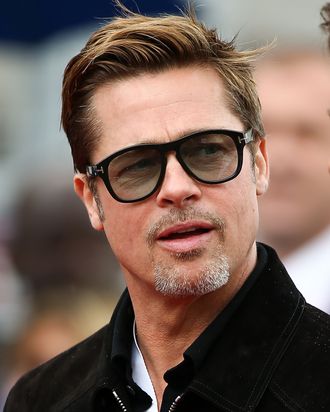 Brad Pitt.
Photo: Marc Piasecki/WireImage/Getty
Last Monday, Angelina Jolie filed for divorce from Brad Pitt, shocking everyone including, perhaps, Brad Pitt. Pitt has tried to catch up with Jolie's superior PR strategy in the last week, but so far, he's failed. He hasn't released any kind of statement about the reports that he's under investigation for child abuse due to an incident on his family's private plane, and he hasn't been able to effectively counter Jolie's narrative that he has problems with anger and substances. That may change soon, however — People's new issue comes out tomorrow, and there's a good chance Pitt's side of the story will be in it. The tabloid has worked to defend him since news of the divorce broke last week.
Pitt also released a generous statement to Access Hollywood this afternoon, in which he explains that he will not be attending tomorrow night's premiere of Voyage of Time, a documentary he narrated. "Terrence's 'Voyage of Time' is an incredibly beautiful and unique experiential IMAX film for children and families chronicling the birth of time," Pitt said in the statement. "I'm very grateful to be part of such a fascinating and educational project, but I'm currently focused on my family situation and don't want to distract attention away from this extraordinary film, which I encourage everyone to see."
So Pitt is not ready to answer questions from reporters on the red carpet, but he is ready to work with the media in some capacity. I'd watch out for leaks from Pitt "sources" in the tabloids this week.