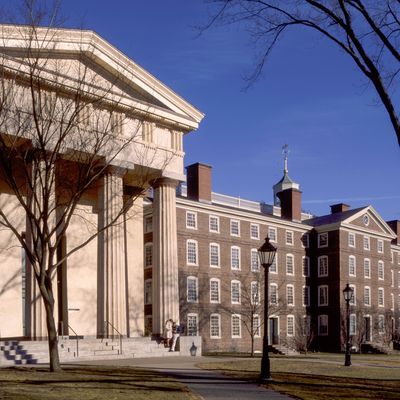 Brown University.
Photo: Yiming Chen#122150/Moment Editorial/Getty Images
Students at Brown University starting classes today will find free tampons and pads in the bathrooms of nonresidential buildings, regardless of which stick figure is on the door. The products will be in women's, men's, and gender-inclusive bathrooms on the Providence, Rhode Island, campus, which is home to about 9,000 students.

Viet Nguyen, president of the Undergraduate Council of Students, told the Associated Press that these products are necessities, like toilet paper, and that students wanted the initiative to be inclusive of transgender people. Having tampons and pads in academic buildings and gyms will help people when they get their period unexpectedly or if they struggle to afford the products in the first place.

The student council is funding the move and will provide products in 30 to 40 bathrooms during the 2016–17 school year, but Nguyen said he hopes the university will take over in the future.