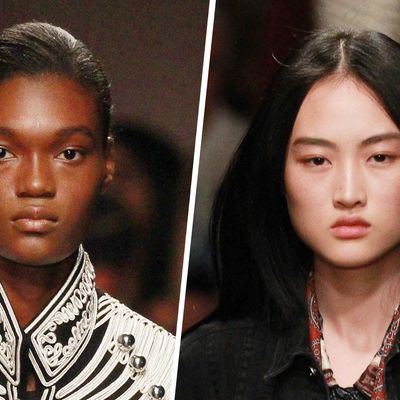 Burberry Spring 2017 statuesque models.
Photo: Getty Images
The statues lining the walls of Burberry's new show venue, Makers House — which included figures like Virginia Woolf and Queen Elizabeth II — inspired the beauty look of today's London Fashion Week show. But don't think rigid and museum-ready. Makeup artist Wendy Rowe and hairstylist Sam McKnight worked to make the look as dynamic as could be.
Explained Rowe as she set to work, "I'm going to change the texture of the skin because we want a matte satin. It should be quite statuesque. A bit like a painting." She demonstrated on model Lineisy Montero, applying sheer concealer around the eyes to take away redness and doing a slight contour on her cheekbones — though since the result is so subtle, she prefers to call it "sculpting." ("Contouring, you can see," she noted.) Rowe didn't use mascara on any of the cast, but did define the models' brows with the brand's Effortless Eyebrow Definer.
Hairstylist Sam McKnight said that he was inspired by gardens and the changing seasons. "I wanted to capture hair that had been outside in the damp drizzle and left to dry naturally, leaving it beautifully soft and textured," he said. He did that by lightly misting the models' hair once with water and then letting it air-dry. (Another backstage beauty look you can re-create at home!)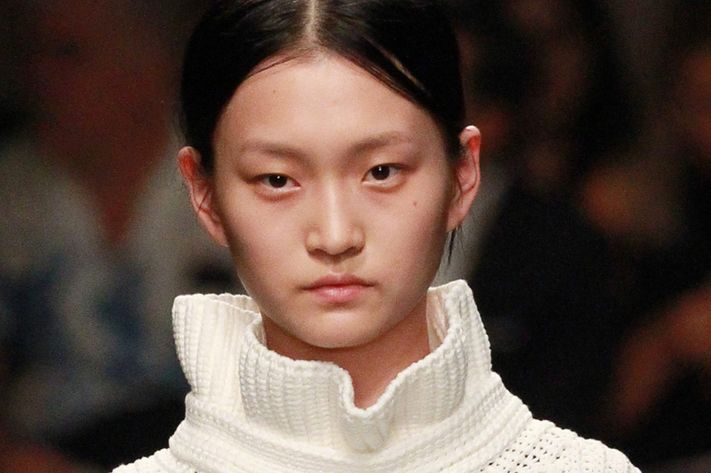 What was most important, they agreed, was individuality, the non-trend trend, meaning that each model gets to look like themselves. McKnight noted that each model sported a different hair look, whether that meant a sporty ponytail or hair tucked into one of the Elizabethan-ruff-style collars. Added Rowe, "We want to keep them as 'them' as possible. We don't want to formulate them into robots."
In keeping with the show's gender-blurring inspiration — Woolf's time-traveling hero-heroine Orlando — she used the same makeup on the men as she did on women, with one notable exception: "The only thing I do differently with the girls is add a little bit of eye."