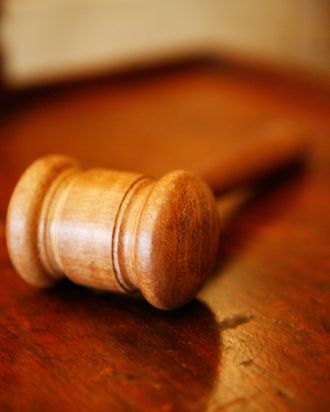 Photo: Lee Thompson/Getty Images
California joined 17 other states that have eliminated the statute of limitations on rape and other sex crimes, including child molestation. As a result, prosecutors will no longer be restricted when filing charges for felony sex crimes. Under the previous statute of limitations, victims of sex crimes had a 10-year window to file charges, beginning from the time the alleged offense occurred.

Governor Jerry Brown signed the Justice for Victims Act into law on Wednesday, without any additional commentary. The law merely appeared on a list of bills he'd signed or vetoed, according to NPR. Its passage, though, has been celebrated as a step forward by others like Caroline Heldman, an Occidental College professor who co-chaired the EndRapeSOL campaign that called for such a law. She told The Huffington Post that rape victims in California will no longer have to face the barrier of an "arbitrary legal time limit." She added, "This law will only affect a small number of survivors who have solid evidence that a crime occurred many years after the fact, but for these survivors, this law is life-changing."
The law also tells rape and sexual assault victims that "they matter," Senator Connie Leyva, the bill's author, told Reuters. "Governor Jerry Brown's signature of SB 813 tells every rape and sexual assault victim in California that they matter and that, regardless of when they are ready to come forward, they will always have an opportunity to seek justice in a court of law," Leyva said.

The bill was partly inspired by the numerous rape allegations against Bill Cosby. While several women have come forward with allegations of sexual assault, the statute of limitations has made it impossible for prosecutors to file charges in California. Still, six of the women who've accused Cosby testified in favor of the new law.

The new law will only apply to crimes committed after January 1, 2017 and as such won't be of much use for bringing additional charges against Cosby. He currently faces charges in Pennsylvania for allegedly drugging and sexually assaulting a former employee at Temple University. He also faces a civil suit in California by a woman who alleges he molested her in 1974.