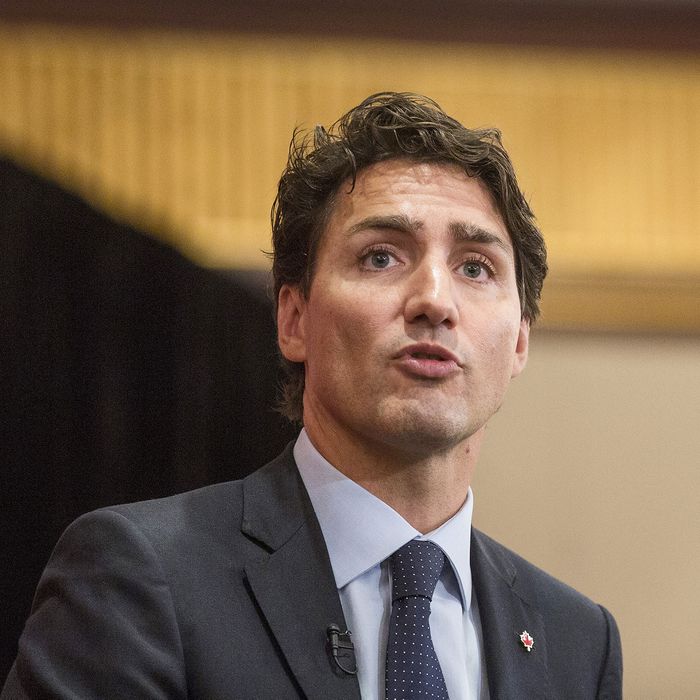 Canada prime minister Justin Trudeau.
Photo: Justin Chin/Bloomberg via Getty Images
In Canada's continued mission to become the woke sibling of the United States, Justin Trudeau's government has just approved prescription heroin, per a report from Alan Freeman at the Washington Post. The idea is to help severe addicts who haven't responded to methadone, rehab, and other treatments.
It's a signal that Vancouver's approach to heroin is going national. Though British Columbia's largest city is a bustling cosmopolitan metropolis, the city's Downtown Eastside neighborhood is a flashpoint for the heroin epidemic that is burning across North America. In 2003, the city started the continent's first legal injection site. "We tried to arrest our way out of it and that didn't work," Vancouver Police Department sergeant Randy Fincham told the New York Times. "Clogging up our courts and jails was not the solution." Then, in 2005, the city saw the opening of Crosstown, a clinic where addicts can safely get heroin injections for free. Estimates say that the program costs taxpayers $21,000 per addict per year, each of whom would cost the state $35,000 in medical care and jail if they were left on their own. The purpose of these facilities is to create stability in addicts' lives, so they don't spend all their time trying to get their next fix.
This nobly compassionate approach, unsurprisingly, was pioneered in Europe, with the world's first legal injection site opening in the Swiss capital, Bern, in 1986. Since then, Denmark, Switzerland, and other European countries have shown how the approach works. According to a Danish study, the approach increased the number of addicts who find permanent housing by 30 percent and reduced "side-abuse" drinking by 50 percent. An analysis in the British Medical Journal found that in the Netherlands, the prescription of heroin saved the state over $16,000 because of lower costs with policing and damage to victims of crime. Hopefully Canada's leadership will set an example for the U.S., where drug-overdose deaths have increased by 137 percent since 2000, and opioid deaths have increased by 200 percent.