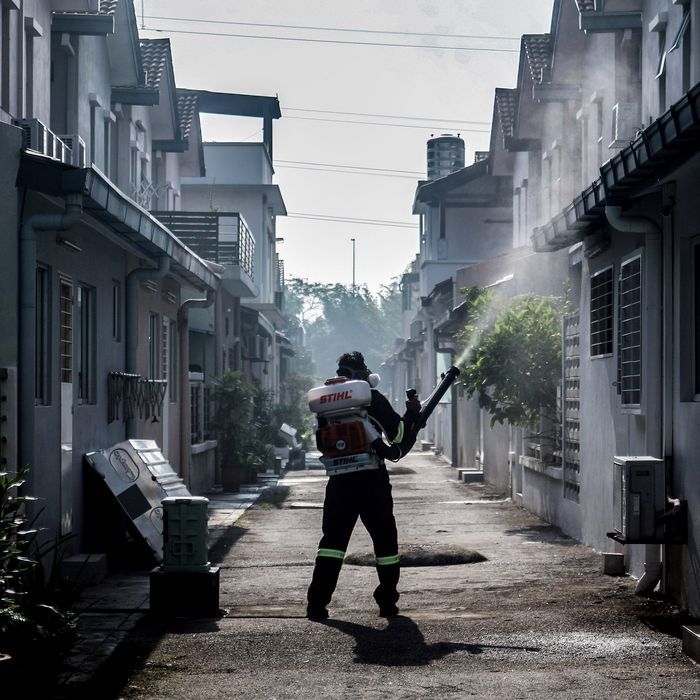 A worker sprays insecticide in Klang, Malaysia.
Photo: Mohd Samsul Mohd Said/Getty Images
The Zika virus is actively spreading in Southeast Asia, and the Centers for Disease Control and Prevention is now warning women about traveling there if they're pregnant or trying to conceive.
The CDC suggests these women consider postponing travel to the following countries: Brunei, Cambodia, Indonesia, Laos, Malaysia, the Maldives, Myanmar, Philippines, Thailand, East Timor, and Vietnam. The agency flat-out advised pregnant women to avoid Singapore.

That's because the island city-state is experiencing an outbreak: Health officials have confirmed 393 Zika cases since the end of August among its population of 5.4 million. (Thailand has confirmed 349 cases, but it's home to 67 million people.)

The CDC thinks the risk of getting infected with Zika is lower in Southeast Asia than in Latin America, but it still exists, hence the new travel advisory.
Pregnant women who must travel to these countries should talk to their doctors about protecting themselves during the trip and get tested for Zika when they return, even if they don't have symptoms. Women and men who've been in Zika-affected areas should wait to get pregnant for six months afterward and use condoms during that time to prevent transmission.