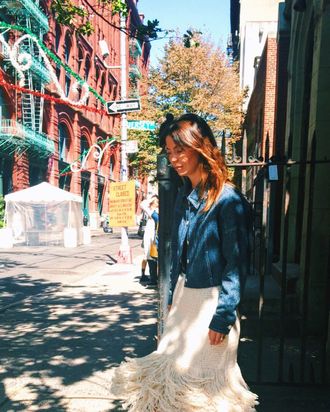 Style Diaries Live is a mini-interview series where we talk to different Fashion Week insiders about their personal style.
Annina Mislin is a Los Angeles–based stylist whose clean, put-together look stands out among the crowds of people at New York Fashion Week. Some of her successes include styling next-generation Hollywood stars like Jaden Smith, Ireland Baldwin, and Emma Roberts, and wearing a hella cool skirt during Fashion Week.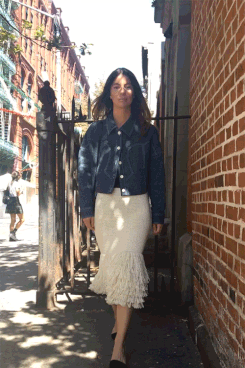 What is your thought process for putting together an outfit for NYFW?
I like to elevate my everyday wardrobe, but it's important to feel like myself.
I'm wearing a Rosetta Getty jacket and skirt, an Araks slip-top, Proenza shoes, and a Mansur Gavriel bag.
Earliest memory of putting together an outfit?
Getting creative with layers during New York's icy winters: ponchos, leather jackets, sweaters, and so on.
If we were to find a stain on your clothes, what would it most likely be from?
Pen ink — nearly unavoidable when I'm working.
Top three favorite Instagram accounts for style information?
@thecut, @thelinenyc, @90ssupermodeldaily.
If I could be a fabric, I would be:
Crepe de Chine silk.
No. 1 tip for someone new to navigating the fashion industry?
I think the biggest misconception about the the fashion industry is that it's always glamorous. That's not entirely untrue, but it's important to put in the work and be patient.