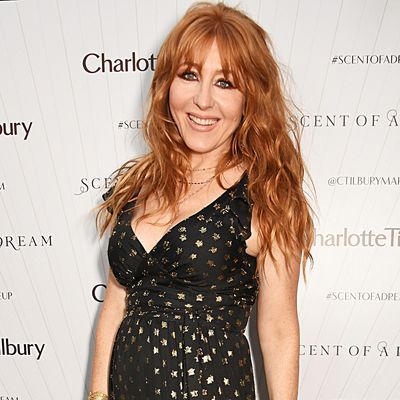 Photo: David M. Benett/Getty Images for Charlotte Tilbury
Makeup artist Charlotte Tilbury taught Kim Kardashian to sleep in her makeup. It's a trick she's picked up herself, as "she has never let her husband see her without makeup on," which Kardashian said of Tilbury, calling her "my hero." The creator of a beauty line loved by celebrity makeup artists and celebrities (she did the wedding-day makeup for Kate Moss and Amal Clooney), Tilbury is also making her foray into fragrance with her first perfume, Scent of a Dream. To celebrate the fragrance, Tilbury recently released a 360 degree film starring Kate Moss, her children's godmother. Here, she talked to the Cut about how she really does sleep in her makeup and her unapologetic belief that makeup is happiness.
Makeup artists always tell you not to sleep in your makeup, but you've talked about how you do sleep in your makeup. Is it really true?
It's true. I always have a bedroom eye. I clean my skin, put my Magic Night Rescue Cream on, my Magic Eye Rescue, and then Wonderglow — it softens everything. But I take off all my eye makeup, and then I reapply it. I put on my eyeliner in Audrey, and then I put a little bit of mascara on my top lashes, and then that's it. I always say it's my bedroom eye because it just makes me feel sexy.
Have you always done that?
Always. Always. Always. Forever. At 13, I understood the power of makeup and the way it changed my life. I understood how you could feel so empowered, confident, and amazing when you looked in the mirror and felt great about loving the way you look. I feel really great, and I don't look tired, and I don't look exhausted, and my eyes don't look small, they look big.
Makeup is happiness. There was a recent study where they took some scruffier counterparts, then made them over with hair and their makeup. With that, they found they earned 70 percent — seven-zero percent — more. It was a 15-year study [Editor's Note: Tilbury might be referring to this study, although it doesn't cite a 70 percent increase]. There is another study by Procter and Gamble that I saw that cited a 30 percent increase.
In the social-media age, what are your tips for looking photogenic?
Makeup. The reason that, on photo shoots, people wear makeup is because they need it. Your features can become more washed-out. They can disappear, so you need that to enhance. Some of the top things all the celebrities use is the Filmstar Bronze & Glow and the Magic Foundation. Filmstar Bronze and Glow is a key, key product. It plays with the light on top of the cheekbones, and then you can contour your face because sometimes you can look quite flat and wide on camera.
Magic foundation is the most incredible HD foundation. It fills in your pores. It smooths out your pores. It shrinks your pores. And then, there's Supermodel Body — which is literally "supermodel body." That was created for the Victoria's Secret fashion shows, and celebrities send me pictures all the time being like, Look at my legs with Supermodel Body. It's key on the red carpet because often, you have these gorgeous glowing faces and then when you put moisturizer onto the skin, it quite often sinks in.
Alicia Keys wore no makeup to the VMAs and while there was some praise, there was also some backlash. What are your thoughts on people who say that makeup is a mask?
Makeup is not a mask. There's not a human being in the world that doesn't look better with makeup. It might be a little bit of makeup or it might be a lot of makeup. It depends. It depends on the individual, their features, and how much they can take. Anyone, even Gisele Bündchen, who is the kind of girl who wakes up looking good, even she looks great with just a little bit of makeup.
I totally disagree. They just haven't discovered how makeup can enhance your assets and make you look like the most beautiful version of you. In a perfect world, we would all wake up looking like we had perfectly filled in lashes, perfectly skin, but that's just not reality.
This interview has been condensed and edited.