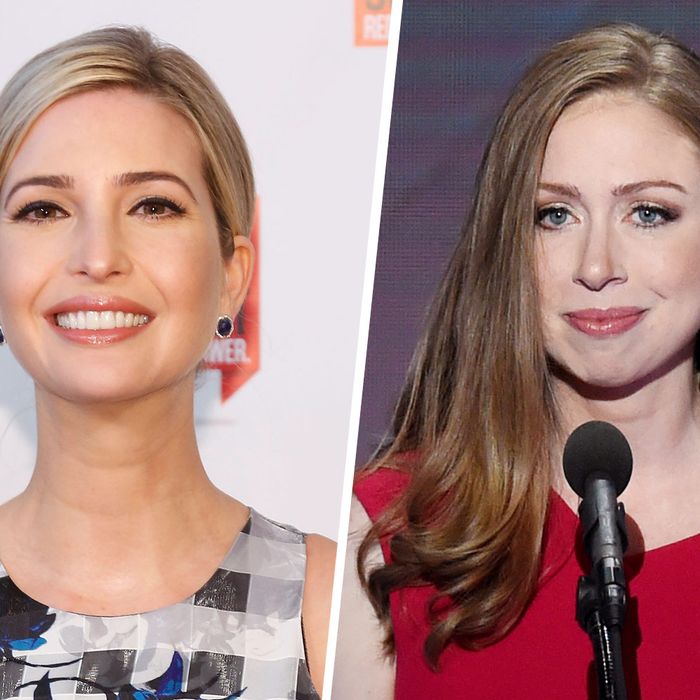 They swear!
Photo: Getty Images
Chelsea Clinton and Ivanka Trump have gone to great lengths to convince everyone they're still friends, and although Chelsea might've slipped up and fired some (very minor) shots when she asked exactly how Ivanka's dad will ensure women are paid equally, Ivanka leveled things out by insisting nothing was amiss. And today in the Chelsea-Ivanka friendship watch, it was Chelsea's turn to calm the waters.
"We were friends long before this election, [and] we will be friends long after this election," she said on ABC's The View on Friday. "Our friendship didn't start in politics, it certainly is not going to end because of politics. I have tremendous respect for Ivanka."

But what about all of the terrible things Ivanka's dad has said about her mom?
"I've been so much more troubled in this campaign about what he has said about women broadly, about Americans with disabilities, about our veterans, about Americans who don't kind of share his straight-white-male heritage," Clinton insisted. "That to me is far more worrying than his sort of thinly or not-so-thinly veiled sexism towards my mom."
See? Totally still friends. By this time next year, we're sure they'll be SoulCycling together once more.