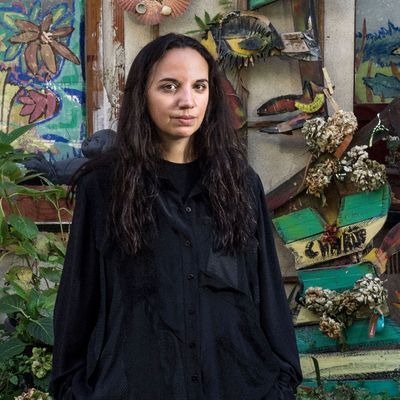 Photo: Jerome Sessini/Magnum Photos
Christelle Kocher leads a double life. The designer spends her mornings at Maison Lemarié, the Chanel-owned studio that provides intricate fabric flowers for the house's couture collections, and her afternoons as head of her own streetwear-inflected label of two years, Koché. In contrast to the ornate surroundings her couture work is shown in, Kocher held her first show at a Parisian mall, casting some of her friends to walk the runway alongside Lineisy Montero and Soo Joo Park.
Couture chops aside, "I grew up in an environment where I was influenced more by sweatpants and sneakers," she says. "That's always been in my gut." Her goal is to make fashion that is "affordable and adapted to everyday life." And that self-described "democratic" take on fashion — which mixes couture-level embroidered pieces by Lemarié with track pants and relaxed denim — earned her finalist status in this year's LVMH Prize competition.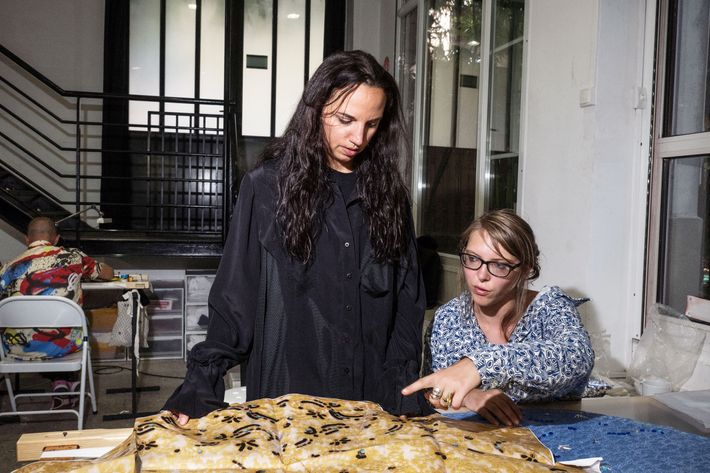 She still drapes all the clothes herself on a dummy, having trained in pattern-making in London with a septuagenarian former assistant to the legendary Charles James. Lured by her worship of McQueen, Chalayan, and Galliano, she had left her native Strasbourg for the British capital, eventually enrolling in Central St. Martins. She quickly fell in love with London, enraptured by the city's art scene — Tracey Emin was a favorite. "The city was a school in itself," she says. "To live there in the late '90s and [early] 2000s was an education. There was nothing in Paris [for] a young designer at the time."
However, she returned to her home country to work, taking on roles at Chloé and Dries van Noten, and has found a community among her fellow young designers there, including Y/Project's Glenn Martens. "At parties, we drink together, we exchange experiences," she says. "I'm happy to be part of this energy [in Paris] right now."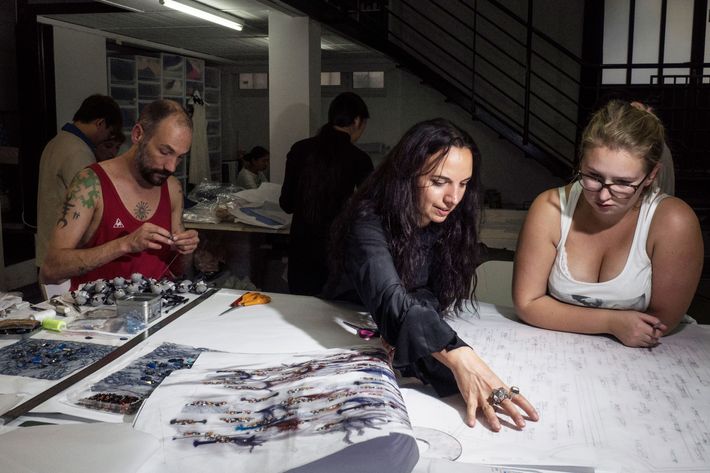 At Lemarié for the past six years, she has grown the team from 20 people to 100, bringing in many who come from art backgrounds, rather than from fashion. She takes a lot of pointers from working so closely with Karl Lagerfeld, saying, "Karl still has curiosity and the will to do something new. He looks at everything like a child."
But she isn't as impressed by the newer, more experimental couture designers who have been entering the fray in the past several years. "For me it has to be wearable, and I just don't see that."
Up next for Kocher: She will be making jewelry with the Chanel-owned label Goossens; working with Adieu on a shoe collaboration; and is hard at work on a mystery collaboration that will be part of her upcoming show. In October, she's taking the Koché show on the road to Tokyo for an event she describes as "almost like a Koché manifesto for Tokyo." All of her artist friends are coming along for the ride, of course.