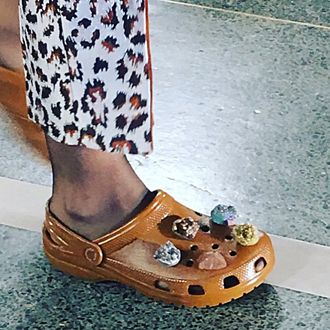 The season's most surprising collab.
Photo: Courtesy of Instagram/anakasikdotcom
Tevas, Birkenstocks, even Uggs have all had their moment in the fashion spotlight. But today at London Fashion Week, Christopher Kane made Crocs — the shoes sometimes referred to as "100 percent effective birth control" — feel elevated by showing them on his runway.
Alongside Kane's chain-link dresses and Stephen Jones's fanciful hats, the standby clog style got a makeover with gem embellishments — a step up from the Minions embellishments you can buy online. It was all part of Kane's '40s-inspired "Make Do and Mend" theme, which also encompasses prints based on tear sheets from previous seasons. Will these be the next Furkenstocks, as far as the unlikely street-style bait stakes go?