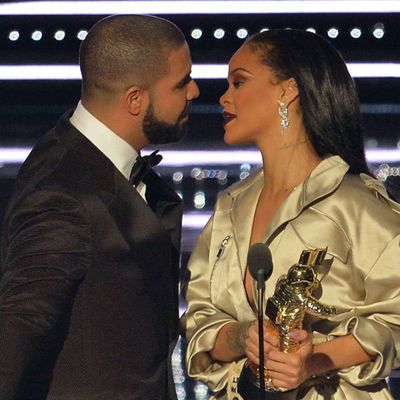 Photo: D Dipasupil/WireImage/Getty
At the VMAs last weekend, Drake professed his love for Rihanna and then kissed her onstage, a smooch she may or may not have reciprocated. Which raises, once again, a question that many of us have been pondering for years: What exactly is the deal with these two crazy kids? Despite Drake's repeated proclamations of love over the years and many a suggestive date night, steamy music video and onstage grinding session, the party line from Aubrih/Drihanna has always been the same: We're just friends. To those of us who have been following the situation, one plausible working theory has been that that Drake is madly in love with Rih but she has been friend-zoning him for years, and that, while they may have dated intermittently, it has never been official. But in the past week — culminating in an affectionate onstage make-out in Miami Wednesday night — it's looked like Rih might have finally broken down and let him into her heart. How did we get here? Let's examine the evidence.

2005
Started from the bottom: The pair meet when young Robyn Fenty is shooting "Pon de Replay" in Toronto. "I was introduced to her as the kid who played background music at the restaurant as people ate their dinner," Drake said when describing their first meeting at the VMAs this year.
May 2009
"Page Six" reports that Rihanna spent the night out drinking whiskey and apple juice while making out with "Canadian former child actor-turned-rapper Aubrey 'Drake' Graham" at New York's Lucky Strike bowling alley.

November 2009
Bowling date aside, Rih says things are platonic. "Me and Drake, we're friends," she tells interviewer Angie Martinez, laughing off questions about their relationship (although do we detect a note of hesitation in her voice?) "Nah," she says. "We never, no."

May 2010
On his track "Fireworks," from his debut album Thank Me Later, Drake raps about that infamous night at the bowling alley.
"I can tell it wasn't love, I just thought you'd fuck with me," he sings. "Who could have predicted Lucky Strike would have you stuck with me." Still, he hasn't forgotten about their sweet night among the pins. "I'll never forget it, baby, what an experience, you could have been the one."
June 2010
According to a Times profile of Drake, the pair did briefly date back in 2009 after Rihanna asked him to write a song for her album, but it's over now. Drake gets a little emo about it. "I was a pawn," Drake says in the piece. "You know what she was doing to me? She was doing exactly what I've done to so many women throughout my life, which is show them quality time, then disappear. I was like, wow, this feels terrible." Poor babe.
Drake clarifies a few days later, to MTV News, saying he didn't mean to offend:

"She's just such an overwhelming and incredible person and such a talented person, and someone that I was like, 'I can't believe I'm here talking to this individual,' that she just gave me that feeling like when I was 17 years old trying to take Nikki Ramos, this girl from Toronto, out on a date and she never wanted to go with me. She never would go; she would have a million excuses why she couldn't talk to me. That's how [Rihanna] made me feel, she made me feel small; she made me feel nervous. It just put me back to the Acura in Toronto, feeling like Aubrey Graham, not Drake."
October 2010
We're treated to their first musical collaboration, "What's My Name," along with a video that features them flirting in a convenience store. Rih is linked to baseball player Matt Kemp at the time.
November 2010
Rih responds to this whole "pawn" business, telling Power 105.1 radio that "he doesn't know what he's talking about," and "we just became friends, and we left it at that. We get along really well."
"We weren't really sure what it was," she explained in another interview that month, again with Angie Martinez. "I definitely was attracted to Drake, but I think it is what it is — it was what it was … We didn't want to take it any further. It was at a really fragile time in my life, so I just didn't want to get too serious with anything or anyone at that time."

February 2011
Drake and Rihanna give steamy, grinding-heavy performances at the Grammys and NBA All-Star Game, sparking more rumors of a romance.

October 2011
Drake, who just can't stop baring his soul to interviewers, talks to Elle about their relationship.
"At the time it hurt, but she didn't mean to. I'll never put that on her. I was hurt because I started to slowly realize what it was. I guess I thought it was more. That was the first girl with any fame that paid me any mind. You spend days reading about this person in the magazines. All of a sudden you have this number-one song and you're at some birthday party and there she is. And you're just some naive kid from Toronto staying in some shitty-ass hotel who got invited to this party on a whim. That's just how it happened."
November 2011
Drake's "Take Care," featuring Rih, comes out. Are the lyrics about Rih? Could be! "You don't say you love me to your friends when they ask you," he sings. "Even though we both know that you do, you do."

April 2012
The moody video for "Take Care," in which Rihanna kind of just stands there while Drake strokes her longingly, is released.
Drake tells MAX Choice FM that, yes, of course he fancies Rih. "I think that we have a connection that's established for life and that is that I love her and support her unconditionally, and I like to think that she feels the same way," he says. "Do I fancy her? Of course, I mean who wouldn't? Look at her, she's stunning. Of course I do. Yeah, no, she's incredible. But you know, it's one of those things that it's a maybe one day, maybe not."

June 2012
Drake and Chris Brown get into a violent brawl at a club. One rumor says Drake sent Chris Brown a bottle with a note that said, "I'm fucking the love of your life."

August 2012
In a tell-all interview with Oprah, Rihanna opens up about being abused by Chris and confesses that she still loves him, although she is currently single.
September 2012
Rih appears to shade Drake by refusing to clap for him when he wins a VMA. Around this time, Brown and Rihanna seemingly start things up again.

April 2013
Drake addresses the Chris Brown brawl in a radio interview, saying: "His insecurities are the fact that I make better music than him, that I'm more popping than him and that at one point in life the woman that he loves fell into my lap."

May 2013
Chris and Rih are done, again.
June 2013
Drake opens up again about Chris Brown in GQ — loves to open up, this guy! — saying, "Two rappers fighting over the woman. He's not even a rapper, but still, it's the last way you want your name out there. It distracts from the music. But he's made me the enemy, and that's the way it's gonna stay, I guess."

July 2013.
We learn that Rih, like any red-blooded woman, likes to twerk to Drake in private.
Meanwhile, the rumor mill is churning again. "When she was dating Chris [Brown], he [asked her not to talk] to Drake," a source tells Hollywood Life. "She really missed him in that time — yes, they went out years before but he was also a good friend to her — so calling him was one of the first things she did when she realized she was over Chris."
"[Drake's been] waiting patiently on the sidelines," the source continues.

September 2013
Drake is on Ellen and, when forced to discuss Rihanna, he calls her a "great girl" and says "we had our moment. Always support and have love for her."
November 2013
They reportedly spend $17,000 on lap dances at a Houston strip club together. Fun!

February 2014
Drake, a man who really likes to talk about his feelings to journalists, tells Rolling Stone that they were involved in the past but not anymore. "She's the ultimate fantasy. I mean, I think about it. Like, 'Man, that would be good.' We have fun together, she's cool and shit. But we're just friends. That's my dog for life."
March 2014
Throughout the spring, Drake and Rih are spotted out and about in Europe together holding hands at various restaurants, clubs, and bowling alleys (aw!). She grinds up on him during a performance of "Take Care" in Paris. There are more rumors that they are dating.

April 2014
Drake's song "Days in the East" seems like it could very well be about Rih. "Waking up in Amsterdam with the boy, long flight home, another Xan for your boy," he sings." "You would probably fly out to Japan for the boy, you would probably kill another man for the boy."
Also, the boy maybe gets a tattoo of Rihanna's face.
May 2014
Drake clarifies that some of his tour visuals — like the one of a flaming Rihanna and the letters 666 — have been misconstrued.
Summer 2015
A cooling-off period. Rih is linked to Leonardo DiCaprio and Travis Scott, while Drake is linked to Serena Williams.
November 2015
Rih tells Vanity Fair her "last real, official boyfriend was Chris Brown," so whatever has been going on with Drake certainly doesn't qualify as "official."

January 2016
Rihanna's single "Work" featuring Drake comes out, featuring — as usual — Rih being too glorious for Drake to handle.
"They are just two friends that are really close to each other," director Tim Erem tells EW. "Just put them in front of the camera and that's what they do. You start recording and the whole chemistry just changed. Everyone's asking, are they together or they this or are they that? No, they're friends. They're just amazing performers and they're really close to each other. So everything was natural."

Rih tells No. 1 Aubrih stan Ellen she's single, responding to Ellen's prodding about her relationship with Drake simply by saying: "I would love to go on tour with Drake. That has to happen."
March 2016
Drake joins Rih onstage for an ANTI world tour date, as he will continue to do throughout the spring. As always, grinding is involved.
April 2016
Rih is featured on Drake's Views track "Too Good." Like all of his songs, it could be about her. "I'm too good to you, I'm way too good to you," he sings. "You take my love for granted, I just don't understand it."
At a Toronto concert appearence, Drake calls Rih "the greatest woman I've ever known in my entire life."
May 2016
A source tells People they have been "secretly dating for months."
On SNL, Drake impersonates Rih and says again that they are just friends. He also tells Ellen that their relationship is "friendship at its finest" (suffice it to say, she does not believe him).
June 2016
More joint tour appearances. "You've gotta make some noise for the most beautiful, talented woman I've ever seen in my life," Drake says to the crowd on yet another ANTI world tour date. "She goes by the name of Rihanna … I'm gettin' my heart broken."
August 2016
Okay, so, a lot happens in August! First, Drake puts out a billboard to congratulate Rihanna on her VMA Video Vanguard Award (which she acknowledges via Instagram).
Then, at the ceremony, Drake gives a fawning speech and says he has loved her since she was 22 years old. Then Rih maybe curves him when he goes in for a kiss, or maybe she doesn't. She says something to him afterward, which could be "That was funny" or, in a darker timeline, "That was fucked." Her exact words remain a mystery.

In the days following the ceremony, they are spotted out together looking intimate, and Drake posts a couple-y Instagram.
Oh, and last night they made out onstage. This time nobody got curved.
So: What exactly is going on with these two? We may never know, but I like to think this tweet sums it up best:
Plausible.