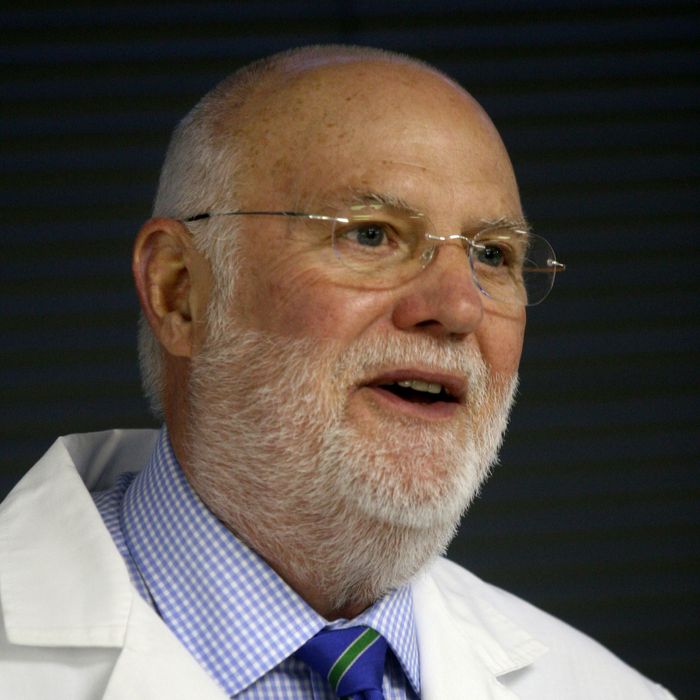 Dr. Donald Cline.
Photo: Kelly Wilkinson/AP
A retired fertility doctor from Indiana allegedly used his own sperm 50 times to impregnate patients, several of whom became pregnant as a result. Each had been told that the sperm was donated by medical students.
Dr. Donald Cline, now 77, pleaded not guilty on Monday in Marion County Supreme Court in Indianapolis to two counts of felony obstruction of justice. Cline allegedly misled investigators after two of the now-adult children filed complaints against him, the Associated Press reports.
The doctor was released on his own recognizance, according to People, and will be back in court on October 17 for another hearing.
The allegations against Cline were first reported in May, accusing him of being the biological father of at least eight people. The incidents allegedly took place while Cline operated a fertility clinic during the 1970s, and the youngest of his alleged children is 30 years old.
Cline, who retired in 2009, allegedly told six of the adults who believe they are his children that he had used his own sperm around 50 times "whenever he didn't have a donor sample available," according to court documents.
Each of the patients had been told that the sperm they were receiving had come from medical or dental residents or students. Cline also allegedly told them that the donated sperm wasn't used more than three times.
A woman who says Cline is her biological father told Fox59 that "it was unethical what he did. He was telling his patients one thing and doing another."
One of the six adults who confronted Cline had taken an at-home DNA test, which revealed that she was related to eight other people in the private company's database. Two of the other adults took DNA tests to examine their ancestry, and found that they were related to 70 of Cline's relatives. Yet, when the state began investigating complaints, Cline denied that he had ever used his own sperm.
"I can emphatically say that at no time did I ever use my own sample for insemination," Cline wrote in a letter to the attorney's justice.
The doctor's attorney, Tracy Betz, said in a statement to the AP that Cline isn't accused of hiding documents, influencing witnesses, or not cooperating with the investigation.