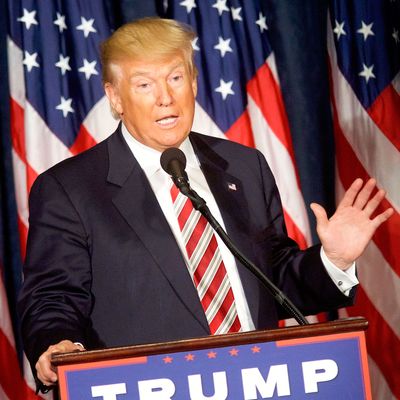 Donald Trump.
Photo: Mark Makela/Getty Images
There are many terrible things about running for president — your personal life makes headlines, you're constantly traveling, and you have to hold random babies who couldn't care less — but I think we can all agree that much worse than those things is having to disclose your weight.
Donald Trump did just that during a Wednesday taping of The Dr. Oz Show. Two audience members told Politico that Trump said he weighed 236 pounds, while other reports indicate that Trump said he weighed 267 pounds.
When Oz asked Trump if doctors were concerned about his weight, he admitted that he wanted to lose 15 to 20 pounds, just like we all tell our moms when she says we look like we've been "eating well."

Telling all of America your weight sounds awful, but it's definitely less awkward than 'fessing up to constantly kissing your daughter.