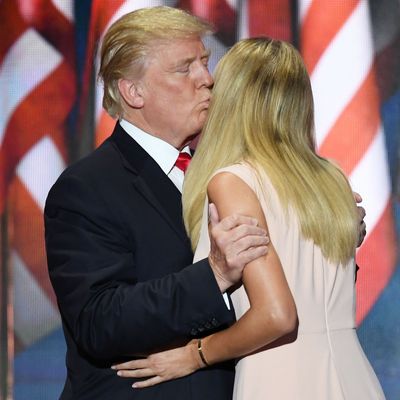 Just some quality father-daughter time.
Photo: JIM WATSON/AFP/Getty Images
Donald Trump cherishes women, but there's one woman he holds above all others: his oldest daughter, Ivanka. Not only has he preemptively named her to his cabinet, but he's repeatedly bragged about her great body and has pointed out that maybe — if they weren't related by blood — he would date her.
But during a taping for The Dr. Oz Show on Wednesday, Trump took his fatherly affection to new heights. According to a source from the audience, Ivanka walked onto the set and kissed both her father and Dr. Oz in greeting. When Dr. Oz said it was "nice to see a dad kiss his daughter," Trump responded that he kisses Ivanka "every chance he gets."
Okay, then.