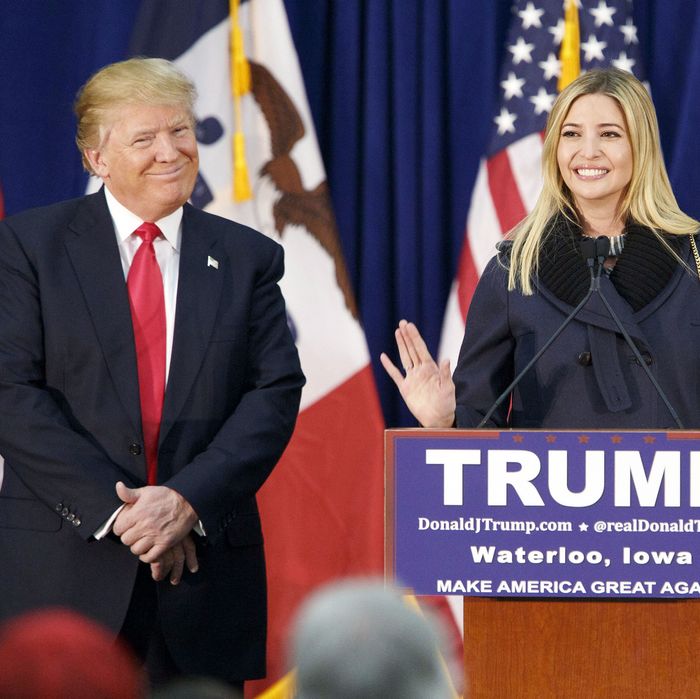 Better find a pen, Ivanka.
Photo: Patrick T. Fallon/Bloomberg via Getty Images
Much has been made of Donald Trump's paid-leave policy, which his oldest daughter, Ivanka, helped write, and which is pretty much a first for any Republican candidate. But though the fact he has one is a step forward, further investigation into the plan itself has led some to worry it excludes single mothers.
As stated on his website, Trump's policy will let people deduct child-care costs from their taxes and will offer six weeks of paid leave for mothers. In an interview with Cosmopolitan, Ivanka Trump clarified, "It's meant to benefit, whether it's in same-sex marriages as well, to benefit the mother who has given birth to the child if they have legal married status under the tax code."
Which means, as the Washington Post points out, that fathers would not be granted paid leave, nor would same-sex couples in which both partners are male, nor would parents who adopt a child. And thanks to the "legal married status under the tax code" clause Ivanka referenced, unmarried parents and single mothers wouldn't qualify for paid leave, either.
The campaign's website doesn't mention any such provision — in fact, it compares Trump's plan to a "similar" program in California, under which, "unmarried, nonwhite, and non-college educated mothers receive the most benefit." But a separate fact sheet available through the website states that same-sex couples will be granted leave only if their marriage is "recognized under state law."
In response to the policy's apparent ambiguity, a Trump spokesperson told the Post that the policy does extend to single mothers, but he couldn't explain why both Ivanka and the fact sheet mentioned a marriage provision.
"We don't have the exact legislation written down," he said.