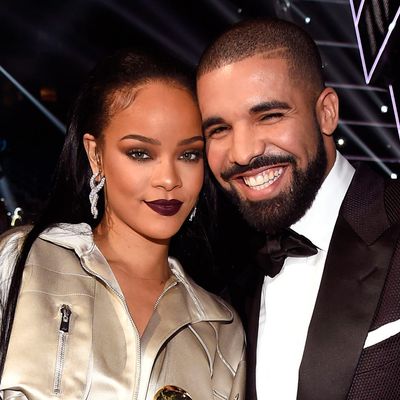 Is this a sign of true love?
Photo: Kevin Mazur/WireImage
There's mounting evidence that yes, there is something going on between Drake and Rihanna. The latest proof comes to us via a small shark tattoo inked on the front of RiRi's ankle, which also now appears to have been replicated on Drake's arm. Who knew that a two-dimensional shark tattoo would come to embody their twisting love saga?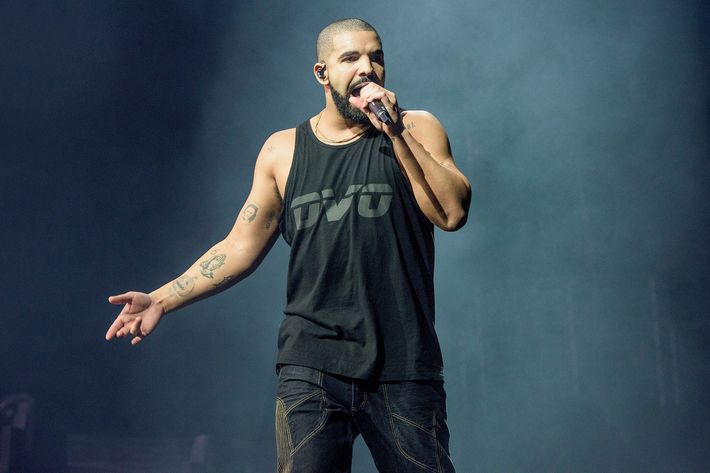 Now, Drake and Rihanna fans have been watching closely for signs of true romance ever since the two began racking up the hours together this summer. RiRi might have dodged Drake's kiss at the VMAs, but that didn't deter him from posting a close-up shot of them to convince people that the two were, indeed, dating. (If you look closely, this is also the first sighting of a stuffed shark doll that may have inspired both tattoos.)
The shark tattoo, by the way, is rumored to reference a date at an aquarium, where Drake reportedly got RiRi a stuffed shark toy. RiRi further fueled relationship rumors when she proudly showed off her shark tattoo in an Instagram post. Now it looks like Drake is sporting a similar — if not identical — shark tattoo on his arm.
Fans first noticed it during his performance at a concert in New Orleans, though it's unclear when exactly he got it.
But, in an apparent move to make sure that fans definitely noticed his new ink, Drake took to Instagram once again. His photo posted on Saturday shows him, right arm outstretched, with the shark tattoo for all to see. No pinching or zooming in necessary. (Though you're welcome to do so.)