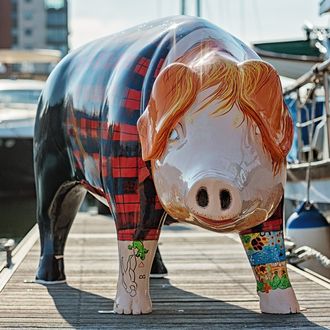 Photo: Suffolk County Council
If you've recently been struck by the urge to redecorate, perhaps you may be interested in this large ceramic replica of singer-songwriter and Taylor Swift Instagram friend Ed Sheeran as a pig.
So how much would you pay for this uncannily accurate pig-shaped statue of Ed Sheeran? Ten dollars? Two-hundred dollars? A million dollars? Well, sadly, this Ed Sheeran pig statue is no longer for sale.
"Ed Sheer-ham" sold for £6,200 or $8,048 at a recent auction in Ipswich, reports the BBC. The proceeds will benefit a local hospice. The BBC also reports that Sheeran called his ceramic pig replica "awesome."
Should you still be dead set on this decor idea, just use an orange marker to draw some bangs on a piggy bank. DIY!