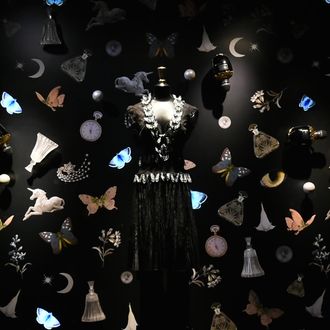 The Alexander McQueen windows at Saks.
How do you adequately celebrate an Alexander McQueen launch? When you're Saks Fifth Avenue, you dedicate a slew of fantastically ominous windows to the brand. Until September 26, the windows at the flagship store in New York will display three different dedications to McQueen's two inaugural fragrances. There are flickering moths that flank a McQueen dress, giant blinking eyes that seem to glare back from every direction, and vintage fragrance bottles that gently spin.
The theme of the windows was drawn from the "obsession" prints that make up the brand's fall 2016 collection, in addition to the night-blooming flowers found in the Alexander McQueen parfum and eau de parfum. Through you could browse the windows during the safety of day, they're more eerily delightful once the sun has set.