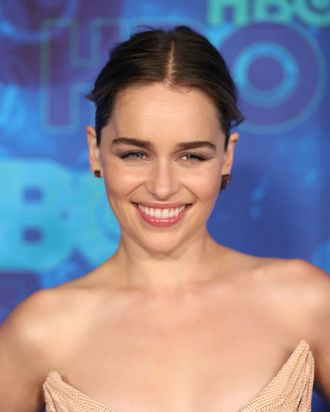 Photo: JB Lacroix/WireImage/Getty
Daenerys "Stormborn" Targaryen: She's just like us.
When asked about whom she was most excited to see at the Emmys last night, Emilia Clarke, a.k.a. Daenerys on Game of Thrones, gushed over Matt Damon.
"Well, this is a bit cheating, but Matt Damon, I mean, come on! I know it should be like someone else, maybe someone who is like a part of the show, but he just — that was awesome," Clarke told reporters at the HBO after-party.
Despite losing to Maggie Smith for Best Supporting Actress, Clarke was ecstatic about GOT's 12 other wins this year, including best drama series, and for the show setting a new record for 38 total wins. For that she had another man in mind: "I think [I'll be celebrating] with Mr. Alcohol," she said. At the party, she stayed with her castmates at an overflowing central table, with a drink in her hand and Nikolaj Coster-Waldau on her lap.
Like the rest of her cast, Clarke had a call time for work this morning — in Belfast — and the actress wasn't too optimistic about how she was going to look in the airport in a few hours. "Most of the time I do try and have like some [outfit]," she said, "and then you just get changed into your pajamas on the plane, but tomorrow I don't hold much hope."
But until then, Clarke appeared gorgeous, sporting a tiny wasp waist in a nude Atelier Versace gown that she picked because it fit, she said. (It did. It really did.) Still, she remains as relatable as anyone who rides a CGI dragon to work can be, dispensing some advice for other women checking out stars on the red carpet.
"Never look at pictures of famous people and think that it's how we get out of bed, because it ain't," she said. "There's a lot of blood, sweat, and tears that goes into the life."