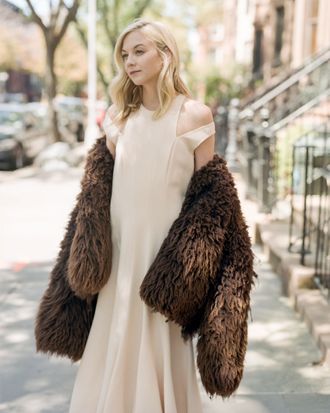 For four seasons, Emily Kinney played The Walking Dead's Beth Greene — the wide-eyed, singing-prone, optimistic daughter of a veterinarian farmer — but as is the show's wont, her character met its less-than-natural conclusion last November. Kinney isn't fading into oblivion, though. After smaller roles on television shows like Masters of Sex, The Flash, and Arrow, she's back this fall with a lead role in ABC's new legal drama Conviction and a seven-inch record, both due this October.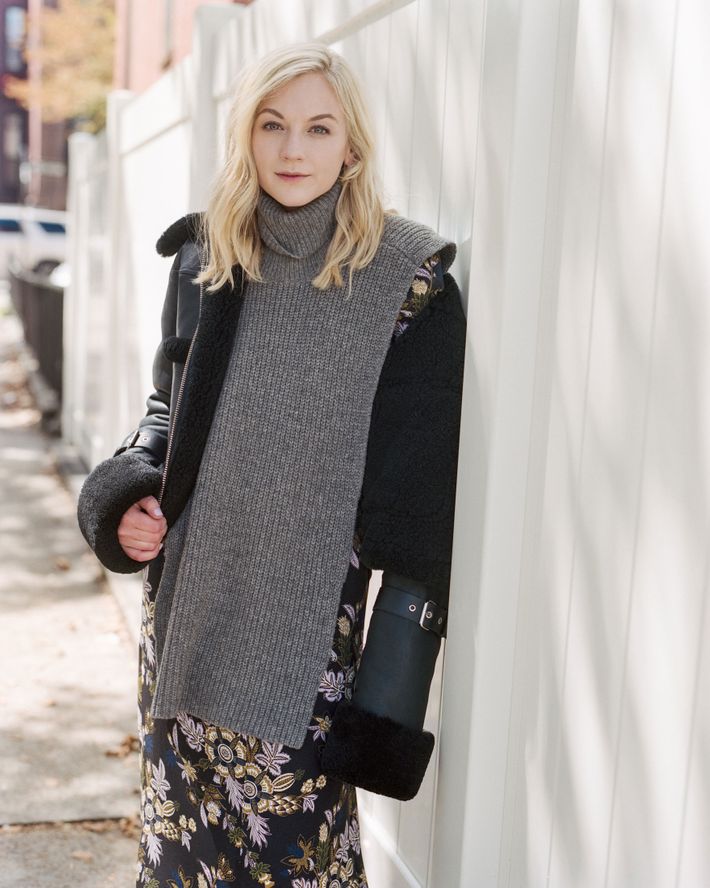 A.L.C. dress and sweater, price upon request at Barneys.com; coat, $1,795 at Nordstrom.
Kinney grew up in what she describes as an "itty-bitty town" in Nebraska. As a kid, she was more into music than acting: "I remember listening to 'Imagine' by John Lennon in the pickup truck when my dad would drive me places, and saying, 'Oh let's play that again!'" Her dad was an agronomist selling fertilizer to farmers and her mom was an accountant, but their life was always always filled with music. She recalls going to see the Beach Boys, the Rolling Stones, and the Eagles for her dad's birthday.
"I was always singing. I would learn a song and say, 'Let me sing this for you!' and then it translated into acting. People would come up to me as a little kid and say, 'I liked it when you sang that song because I could hear the words so clearly.' Kinney had an innate desire to connect emotionally with her audience, even as a kid, so those moments were highly memorable. "It's been pretty much forever that I've felt this way. I wanted it to be a career, but even if it wasn't, I'd find a community theater or sing somehow. This is just what I do and who I am."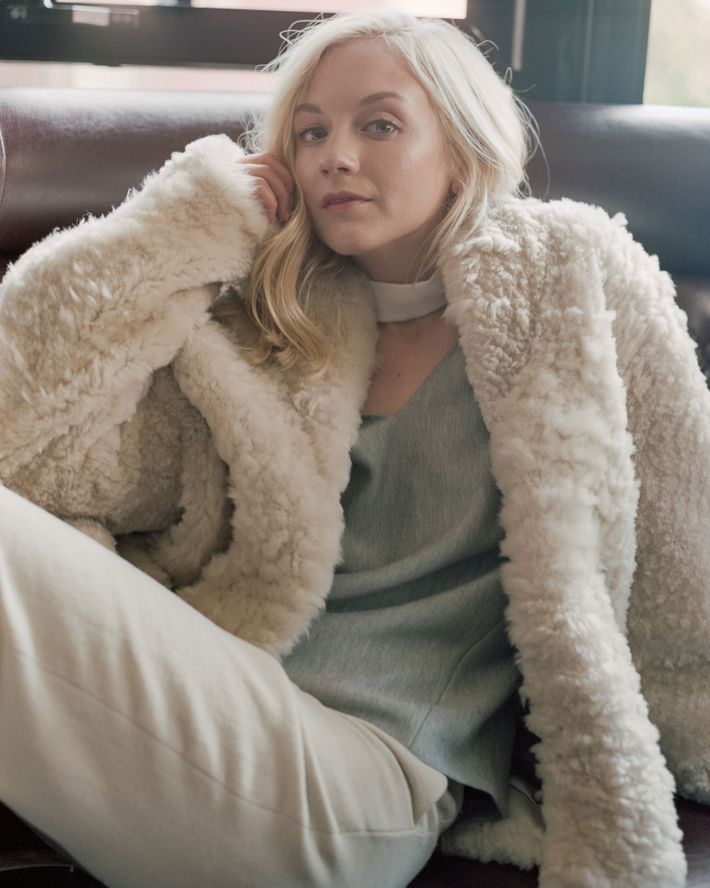 Hellessy Top and Pants, price upon request at Hellessy.com; coat, $3,200 at Hellessy.com
Like so many aspiring creatives, she moved to New York when she was 19 years old and started auditioning. She found temporary luck with a few plays: Iphigenia 2.0, Spring Awakening, August: Osage County. "I was super broke so I moved back to Nebraska to save money, worked at a coffee shop, then moved back to New York for real. It sounds simple now, but it was quite a big chance. I'd never been to New York or visited before I moved. The first couple years were pretty intense."
All of that led up to her auditioning for The Walking Dead, where she became a season regular after two years. "I'm really proud of my work on The Walking Dead," she says, "because I felt like I had a lot of time with my character before I had to do big scenes."
Her favorite thing about the show: "Even though there are zombies and it's based on a comic book, it definitely tackles big questions about our existence and what it means to be alive if you're just surviving. It felt very real, being isolated in this place with a bunch of actors, and they naturally just become your family after so much time. And then when people are killed off, it feels very real because they go away."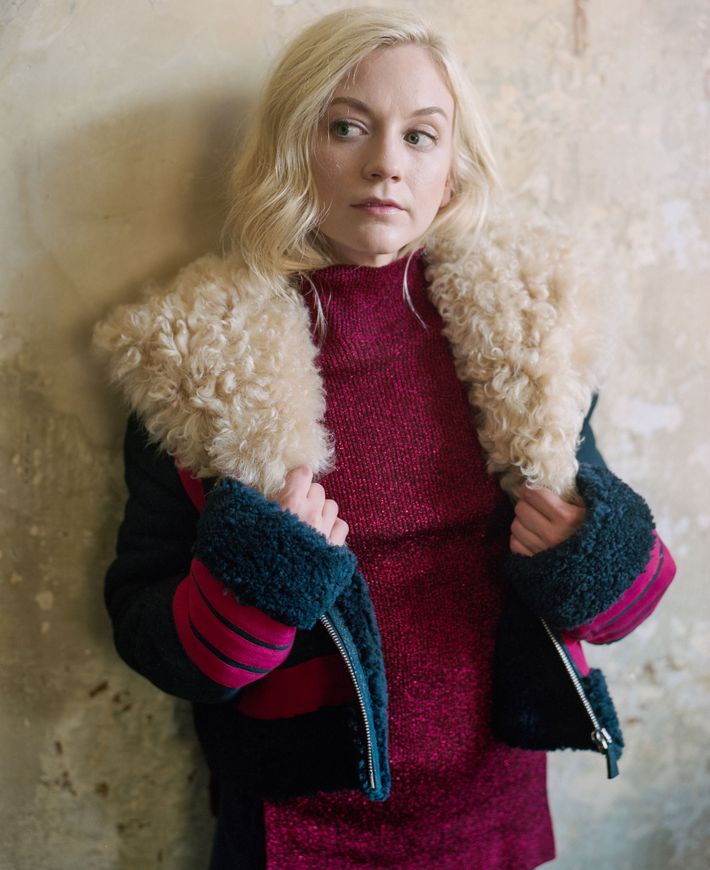 Cedric Charlier Coat, $3,115 at Shopbop; sweater, price upon request at Cedriccharlier.com
After The Walking Dead, she returned to her first love: music. On October 28, she's releasing a seven-inch vinyl of melodic indie-pop songs, a follow-up to last year's "This Is War." Her 1.6 million fans on Instagram have been begging for even more music, but she's in no rush to release her next full-length album. "I definitely want to take my time. Not just like I want to write a billion songs for it, but as far as how I do it — I want to bring it back to me writing more songs and becoming a better musician."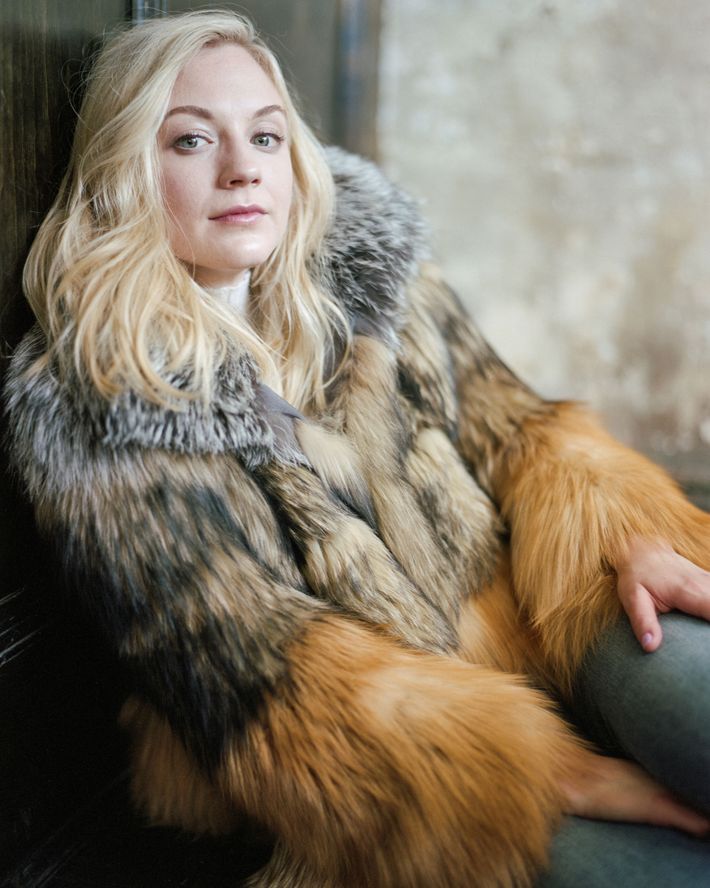 Elizabeth and James Coat, price upon request at Elizabethandjames.com; jeans, $245 at Shopbop.
In the midst of it all, she's been doing press for her new show Conviction, where she's been having fun with the costumes. "On Conviction, they've brought in a lot of really cool pieces that have sparked my interest in fashion. In the past I've always been the black jeans, Converse, flannel-shirt uniform type, but I'm really loving Chloé pieces as of lately."

On the show Kinney pays Tess, a paralegal on a team working to get wrongfully convicted people out of prison. She says the show will hook anyone who liked Netflix's Making a Murderer or Serial. "Tess definitely has a secret past. She's changed her name, and throughout the season more details come through. Every week there's a new crime to solve, but we all have these continuing story lines and different reasons as to why we do this kind of work to help others."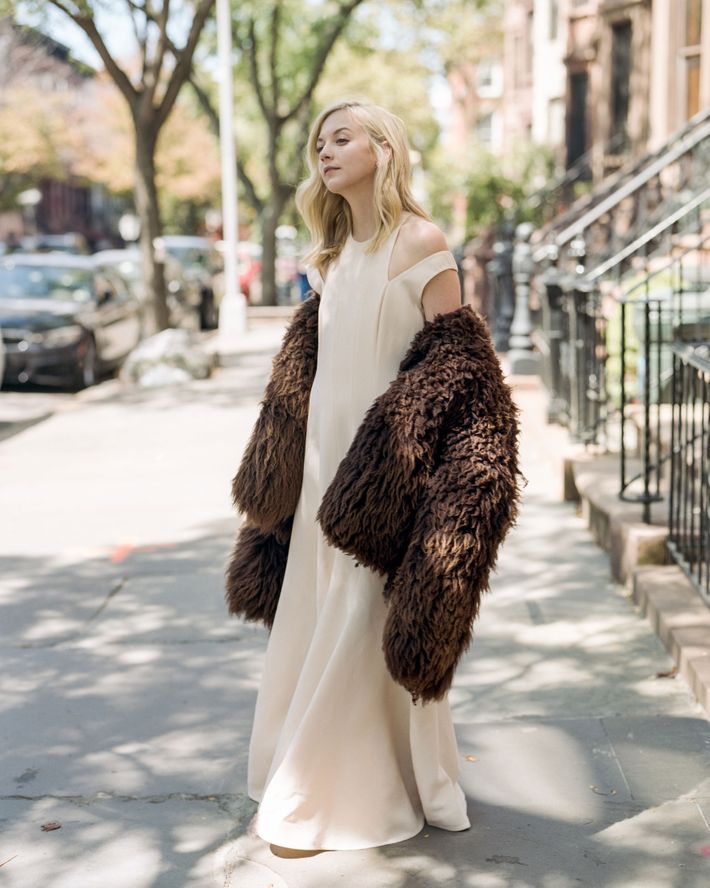 Tome Dress and Coat, price upon request at Tomenyc.com
For now, though, she says, nothing's finite. "For me, I don't have some sort of end-game plan. I want to keep working on things I think are good and that push me as an actor. Music and writing are things I like to do as a career and share with fans, but they're also things I like to do personally, in my off time. I feel lucky to work on different kinds of projects. Creating is definitely important to me — not just interpreting."