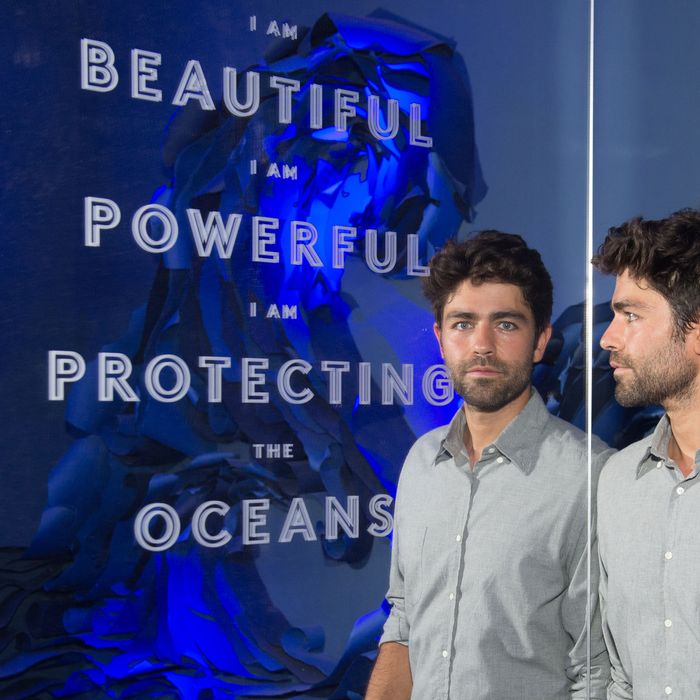 Photo: Mark Sagliocco/FilmMagic/Getty
Fashion Week can take you to unexpected places, which is how, last week, I found myself sitting around a table at Roberta's Pizza with Entourage star Adrian Grenier, getting an in-depth lesson on the blight of plastic straws.
"We consume 500 million straws each day. The equivalent of 127 school buses filled with straws. It's disgusting, " Adrian Grenier declares the minute I sit down, brandishing a plastic straw that the waiter had forgotten to remove. "There should be children in those school buses, going to school, to learn, not straws," he adds, wryly.
Grenier orders me a mezcal soda, his drink of choice. "No straw, no fruit," he tells the waiter. I don't have the chance to find out what's so harmful about lime wedges before he turns to look at me, fixing me with the same penetrating gaze that rendered so many beautiful women powerless over the course of Entourage's eight seasons and a movie. "He might forget, or the guy at the bar may forget, so you have barriers to success," he explains. "But now we've planted a seed, and he's going to think about that."
If you haven't been keeping up with Adrian Grenier's social media or online presence over the past few years, you might be wondering at this point: Why Does Vincent Chase care so much about straws? Much like his friend Leonardo DiCaprio, Grenier has embraced the mantle of celebrity environmentalist in recent years. The bulk of his activism takes place through the Lonely Whale Foundation, which he co-founded in 2015 along with producing partner Lucy Sumner. Sumner is married to Sting's son, Jake Sumner, who recently made a film about plastic pollution in the oceans, and both of them joined us at dinner along with a handful of Grenier's friends and colleagues from the foundation. According to its website, Lonely Whale "is dedicated to bringing people closer to the world's oceans through education and awareness, inspiring empathy and action for ocean health and the wellbeing of marine wildlife," with a focus on getting millennials engaged in ocean conservation through social media and various digital and IRL experiences.
I ask Grenier how he defines himself nowadays. He says he doesn't like the word environmentalist, because it sounds too radical. "I'm a guy who cares about people," he says. "Acting is my day job, but at night, I get to be a superhero. There are superheroes, people who fly or have all these extraterrestrial powers or supernatural abilities. Everybody can be a superhero every day by doing very simple things. Change the world."
Tonight, we're here to talk about Lonely Whale's exhibit at Refinery29's interactive "29 Rooms," taking place around the corner, as well as Lonely Whale's current campaign to get individuals to cut down on plastic straws (a major source of ocean pollution), and their upcoming documentary 52: The Search for the Loneliest Whale, out of which the foundation was born. The film, which DiCaprio helped kick-start, follows a whale who calls out at a frequency no other whales can understand. "It's fascinating to see this story because of our relationship to whales historically, and what they mean to us symbolically," Grenier explained. "Whales are the keeper of wisdom."

Grenier is very passionate — about straws, pollution, whales, the ocean, conservation, his vinyl collection (he recently curated a record store for a new East Village bar) — and he talks with the unfiltered confidence of a man who is used to people listening to what he has to say. He is a fan of hugs, and back-touching, and scooping food onto your plate even if you indicate that you're full. Much like Vinnie Chase, Grenier rolls with an entourage — a crew of bubbly environmentalists who refer to themselves as "a family" and all work for the foundation in varying amorphous capacities — and who all seem to adore Grenier. "He's one of the best people I know," Lucy Sumner tells me.

Everyone is very nice and very enthusiastic, if a bit intense, whether we're talking about the sea (we mostly talk about the sea), sustainable agriculture, podcasts, the upcoming election (I said I was Canadian and Grenier pledged to vote for Hillary "on my behalf"), or feminism. "I would consider myself a feminist," says Grenier when I ask him. "But women don't need my permission to take what is rightfully theirs after all these years, so I don't even need to declare my feminism as a righteous thing. I just am, because I recognize that it's happening, it's right. And I'm just in awe of it and excited about the prospect. Maybe our saving grace is if we can balance the male energy, which tends to be short-term thinking, overly aggressive, often indelicate, with the feminine energy, which is more careful study and frankly more sophisticated, we might actually be able to build a world that would be in balance."
Grenier speaks like a guy who just got back from Burning Man for the first time, which it turns out he did, and he is eager to discuss his experience. "It's a bunch of people who are open, available to connect, and artistic, and are all conspiring to make the most amazing piece of art, which is everybody collaborating," he says. "It's fantastic."
I observe that one of the biggest problems with people I know who go to Burning Man is that they never stop talking about it.
"It's like, could you imagine having discovered America?" he says. "Would you stop talking about that? It's like, I went to this new land. There's nothing like it. And that's the thing. It's captivating, because it's unlike anything I've ever experienced. And I'm worldly, I've been around the world. And it happens to reflect the value system that I agree with."

The Lonely Whale Foundation seeks to launch a conversation about conservation that resonates with people emotionally, and Grenier sees a lot of parallels between his foundation's goals and his time in Black Rock. "The reason I responded so much to Burning Man is, that is my ethos, that is my people, that is the way I've always lived and wanted to live," he explains. "And there is a Zeitgeist of humans who think that way. If I didn't have an umbrella, for example, I would go from umbrella to umbrella with people and get where I needed to go, dry."
"Sharing umbrellas is awesome," adds one of our dinner mates, a celebrity chef focusing on sustainable seafood.
The discussion turns to New York City, where Grenier grew up and still lives. I observe that the city has changed a lot. "I pioneered Williamsburg," says Grenier. "It got so gentrified that I had to come to Bushwick. I lived two blocks away, and then this place opened, and I couldn't afford to live in this neighborhood," he says, gesturing around Roberta's, which opened in 2008. "We used to have to walk three miles backward in the snow for a cup of coffee when we lived here. Now there's, like, baristas and cold brew."
Suddenly, a woman taps him on the shoulder. "I'm not sure if you remember me, but I just wanted to come over and say hi." Grenier leaps up. "Oh my god! Of course I do!" He wraps her in a big hug and they chat for a few minutes.
"I used to fly on United like drinking water, 'cause they were an Entourage affiliate. She worked on the ground or whatever," Grenier explains to us after they finish talking. "We like bro'd down … She used to take care of me."
I take this as my entry to ask him whether he still gets dates because of Entourage.

"I can't speak to [prospective dategoers'] wealth of knowledge or wisdom, but Entourage struck a chord. It was a cultural phenomenon, it defined an era, it's undeniably an amazing show, so it would be naïve to pretend that that wasn't a reality," says Grenier. Still, he says he would never date anyone who wasn't socially aware. "We're in the information age. People know more about their world, about the corporations, about what's possible, about how we can connect with others who share their values and unite against common goals and causes, and those are the people I'm bonding with. Not the ignorant people who only watch reality television."
Is he single?
"You know, it's funny," he says. "I was listening to this Radiolab episode about K-Pop. In K-Pop, they completely manufacture their pop stars and they make the pop stars sign contracts where they vow not to date because they're supposed to be the property of the people, they're supposed to be perpetually single and attainable. So in honor of that episode and the Korean pop stars that I aspire to be, I am perpetually single for the sake of my fans," he grins. "Does your audience listen to Radiolab? You should put a link to that." (Here you go.)
As the dinner ends, we head over to "29 Rooms" to see Lonely Whale's installation, a room filled with crepe paper in the shape of waves and blue lights that simulate the experience of being under the sea. Grenier is glad that the event is using paper straws (per his request), and very pleased with how the room looks. "It's gorgeous. I like being in there," he declares. He holds court in the room for much of the evening, taking photos with the Winklevii twins and chatting with a string of attractive women.
Earlier, I ask Grenier if he gets annoyed when he's recognized by people or asked about the show that made him famous, but he shakes his head. "The celebrity thing is what you make it," he says, flashing me that winning Vinnie Chase smile. "Look, I have an opportunity to live like Burning Man all the time because I have the opportunity to meet people who can open up and be present with me," he says. "And I can shame them for it and act holier than thou or have those authentic moments with people every day. I'm lucky."