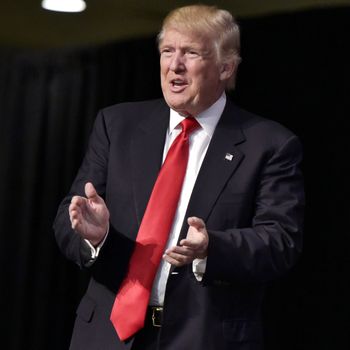 Photo: MANDEL NGAN/AFP/Getty Images
Donald Trump, reality-TV star and Republican nominee for president of the United States of America, will announce a paid leave policy for new mothers today during a policy speech.
Mr. Trump, who has previously referred to Fox News's Megyn Kelly as a "bimbo" and said that pumping breast milk is "disgusting," has recently changed his tune in an attempt to win female voters. Most dramatically, his daughter Ivanka gave a powerful but for some reason unconvincing RNC speech where she made the case for her father as an advocate for women.
The policy will, among other things, let people deduct child-care costs from taxes and offer six weeks of paid leave for mothers (only) in an amendment to the current unemployment law. But the details matter less than the fact that he's bothering at all. Trump is breaking with the long-standing Republican tradition of blinking furiously and changing the subject whenever someone asks about paid leave. In fact, his policy, which as proposed is pretty mediocre, is revolutionary by Republican standards, which previously dictated … nothing at all.
So if Donald Trump suddenly finds it necessary to have a paid-leave policy, does that mean he actually does, you know, care about women? No. But we should, and absolutely must, concede that paid leave as a concept is now, finally, becoming mainstream in the American discourse. We should keep demanding it, because our demands are pushing even the worst candidates to make concessions.