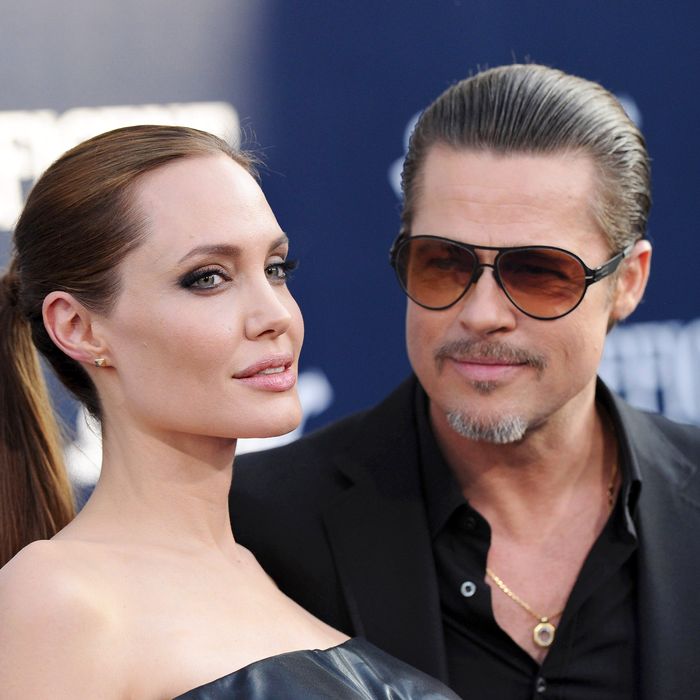 Angelina Jolie and Brad Pitt.
Photo: Axelle/Bauer-Griffin/Getty Images
Angelina Jolie filed for divorce from Brad Pitt yesterday. This is a shocking fact that you are still probably getting used to knowing, but Angie was extremely prepared for you to know it. So far, every tabloid story about the Brangelina divorce has featured some kind of source claiming that Brad's bad behavior caused it. When taken together, these stories paint an unflattering portrait of Brad Pitt. Angie wants full custody of the couple's six children, and her PR team is not messing around.
Here are all of the theories about the divorce (so far).
Brad's "parenting style" upset Angie.
TMZ was the first to report on the divorce, noting that Angie asked the judge for "physical custody of the couple's 6 children" and that "she does not want Brad to have joint physical custody." TMZ cited "sources connected with the couple" who say that "Angelina's decision to file has to do with the way Brad was parenting the children … she was extremely upset with his methods."
Brad has an "anger problem."
TMZ also cited sources who claim that Angie believes Brad has "an anger problem," which has become "dangerous for the children."
Brad is consuming "weed and possibly alcohol."
The same TMZ sources note that Angie became "fed up" with Brad's consumption of "weed and possibly alcohol." This is a particularly charged accusation because, in 2013, Brad told Esquire he gave up drugs to have a family. "For a long time I thought I did too much damage – drug damage," he said. "I was a bit of a drifter. A guy who felt he grew up in something of a vacuum and wanted to see things, wanted to be inspired. I followed that other thing."
Brad "fooled around" on set with Marion Cotillard.
"Page Six" reported today that Angie hired a private detective to uncover Brad's alleged affair with his Allied co-star Marion Cotillard. The site's source claims that Angie "hired a private eye because she felt that [Brad] was fooling around with [Marion] on the set, and it turns out, he was. And that was the final straw." Marion Cotillard is currently in a relationship with Guillaume Canet. She is also a 9/11 truther, which is neither here nor there. (Though this theory makes Brad look bad, it seems that Angie doesn't want the public to focus on it: People, Us Weekly, and TMZ have all published sources claiming that Marion had nothing to do with the split.)
Brad got too close to Angie's estranged father.
Another "Page Six" source claims that Brad has gotten too cozy with Angie's dad, Jon Voight. "Jon's a Hollywood guy, and she's been estranged. Brad hangs out with her father more than she does," the source told the site.
Brad was involved in some kind of "incident."
An Us Weekly source claims that Angie made the decision to divorce only one week ago, after something happened. "An incident took place and prompted [Angelina] to act and file," the source told the tabloid. This incident "affected the entire family."

Russian hookers?
The "Page Six" source also claims that Brad was hanging out with, erm, Russian hookers: "The atmosphere [off-set during Allied] was full of hard drugs and Russian hookers, and Angie was told Brad got caught up in it. He's in the throes of some insane midlife crisis, and Angie is fed up."
So far, neither Brad nor Angie has released a statement about the divorce or any of these claims. Angie's entertainment lawyer Robert Offer told TMZ that Angie simply filed for divorce "for the health of the family." He added, "She will not be commenting, and asks that the family be given its privacy at this time." Laura Wasser (who just represented Johnny Depp) is representing Angie in the divorce.
Update, 1:25 p.m.: Brad Pitt released a statement about the divorce exclusively to People. "I am very saddened by this, but what matters most now is the well-being of our kids," he said. "I kindly ask the press to give them the space they deserve during this challenging time."
Update, 2:00 p.m.: People now has a source that's responding to claims that Brad had an angry parenting style. The source argues, "Brad has always been stricter. He has wanted the kids to have more structure. Brad will get frustrated sometimes and yell at the kids. Angelina always had a more relaxed attitude when it came to the kids. She definitely never yells." People also published a story that insists Marion Cotillard has "nothing to do" with the divorce. I would stay tuned to People for more of Brad's side of the story.
Update, 5:20 p.m.: People has published yet another story in defense of Brad. The headline: "Angelina Jolie and Brad Pitt Are 'Great' Parents and 'Care Very Much About Their Kids,' Says Source." The "source" in question tells the magazine, "Both Brad and Angelina care very much about their kids. It should be clear that Angelina is a great mother, and Brad is a great father. It is unfortunate if anybody tries to introduce negativity into what is already a very difficult and painful situation."