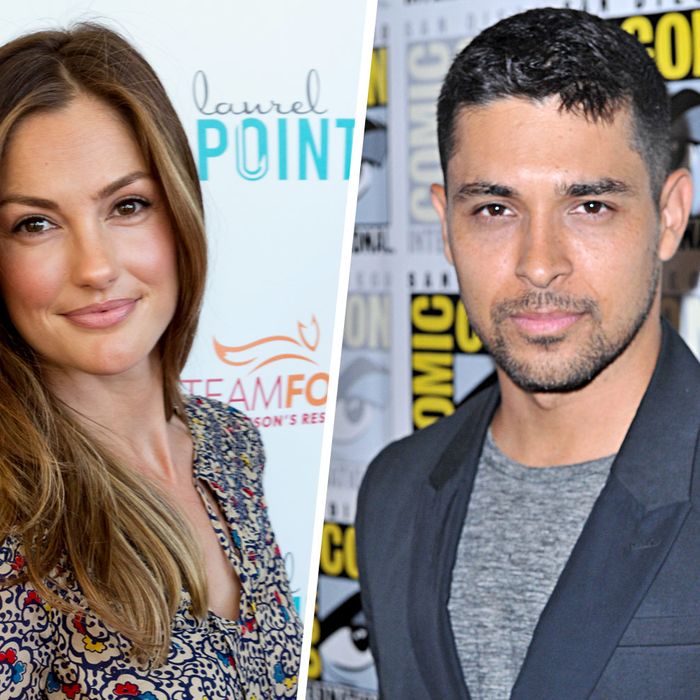 Wilmer Valderrama and Minka Kelly.
Photo: Getty Images
Over the last ten years, Wilmer Valderrama has unfortunately dated many of the young actresses and singers in Hollywood: Lindsay Lohan, Mandy Moore, Minka Kelly, Avril Lavigne, Mila Kunis, Ashlee Simpson, and most recently, Demi Lovato. Now, he's reportedly dating Minka Kelly again. Several tabloids have published exclusive reports about the reunited couple's dinner date this week. Before we get into those details — there are so many — let's remember how Minka and Wilmer got together the first time.
The pair was first spotted together making out in a club in Hollywood in March 2012. Minka had just broken up with Derek Jeter, and Wilmer was in an off-again, on-again relationship with Demi Lovato (who was 19 at the time). In April 2012, Minka and Wilmer went on vacation to Australia together, which prompted Demi to tweet lyrics from Taylor Swift's "Dear John." Eventually, things fizzled and Wilmer got back together with Demi, whom he continued to date until this past June. Minka was most recently linked to … Sean Penn.
On Wednesday, Minka and Wilmer finally reunited over dinner in Hollywood. Here's everything we know about that.
1. It was definitely a date
Us Weekly reports that the outing definitely "looked like a date."
2. They went to a Thai restaurant
E! News notes that the couple visited Palms Thai in Hollywood.
3. Wilmer paid
According to an E! source, "Wilmer was a gentleman and picked up the tab to pay for their food."
4. They looked "casual and relaxed" and also "happy and relaxed"
The same source described the vibe of the date this way: "[Minka and Wilmer] did have a late dinner at Palms Thai together last night. They sat across from each other and it was just the two of them. I didn't personally see if they were holding hands or if they were being affectionate, but it looked like a date. They looked casual and relaxed."
An Entertainment Tonight source offered a similar account: "They looked happy and relaxed in each other's company, and it seemed to be an intimate, romantic night."
5. Wilmer touched Minka's back!!!!
The same ET source said, "Wilmer was touching Minka's back as they were waiting to be seated. They looked like a couple."
6. They went back to Minka's house
According to an ET eyewitness, "the dinner lasted an hour and half before they headed back to Kelly's house." TMZ notes that Wilmer opened the car door for Minka.
7. They have been dating for "about a month"
Us Weekly reports that Minka and Wilmer rekindled their relationship "about a month ago." According to an E! News "insider," the couple enjoyed "a Mexican getaway together recently with a few pals."
We will update this post as more information about Minka Kelly and Wilmer Valderrama's dinner date becomes available.