This Marc Jacobs show did not really need an explanation, as previous ones — like the giant artificial sun he installed in 2013 — have. It was clear from the strings of lights and the puddles on the black elevated set (by Stefan Beckman) that the designer had conjured a rave. The clothes nodded to the Harajuku girls of Tokyo, with their fondness for babyish skirts and platforms that make them look like dolls or cranes. But integral to every Marc Jacobs show is contrast; and so, along with the ruffled miniskirts, satin hot pants, and striped over-the-knee socks, there were Victorian laces, opulent-looking jackets, and crazy dreadlocks spun from yards of hand-dyed wool.
Jacobs is one of the very few designers who sees the expressive possibilities of a hairstyle beyond a tousled mane, and a number of models in the show wore fake, multicolored dreadlocks. The style looks contemporary — a lot of women at the moment wear dreads and love them — but Jacobs has been charged with cultural appropriation by critics on Twitter.
The thing is that appropriation is what the Jacobs aesthetic has always been about — he's borrowed from high and low fashion for decades. He's been absorbing street style since the famously hated 1992 grunge collection for Perry Ellis, and he took flak when he appropriated avant-garde legends like Pierre Cardin and Yohji Yamamoto. In his September 2009 show, set to "Rhapsody in Blue," some of the models wore work smocks, aprons, simple print dresses, and flattened straw hats, evoking the style of rural black women in 1930s America during the great migration. That show — which produced no controversy that I recall — seemed to me at the time like an attempt to honor a neglected American style. By today's standards, it might be considered offensive. At any rate, it's true that Jacobs's response to critics on Instagram — in which he mentioned women of color who straighten their hair, overlooking the complicated, often oppressive politics that go into that decision — was ill-considered.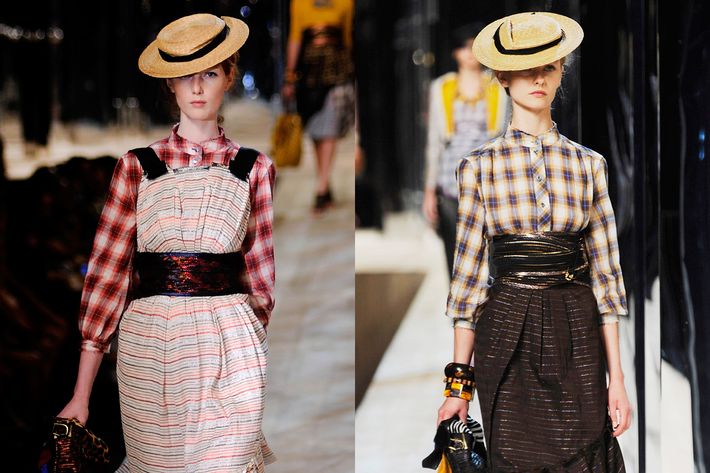 In some ways, contemporary style in general has been a problem for Jacobs. His shows tend to be theatrical treats, like the all-American, spangled performance last year at the Ziegfeld Theatre. Occasionally, though, the clothes verge on parody (his ode to Diana Vreeland comes to mind), or they simply seem the victim of an avant-garde idea that has been around for a while, like last season's oversized shapes.
But this time the ideas seemed relevant, in part because many of the styles — camo-print skirts, sweatshirts and Rugby shirts, decorated denim jackets — were the kinds of things you'd see in his Marc by Marc Jacobs line, which has been folded into the main collection. Also, like an Instagram feed, almost every outfit had a detail that grabbed your attention, from the metallic textures to the appliqués on bags to the almost-regal dreads. In short, you felt that Jacobs was not just giving you a crazy mash-up, but some useful information.
Usually Jacobs talks to insiders and reporters after his show, but not this time. A group of guests, including Grace Coddington and Rachel Feinstein, had been waiting in a hallway at the Hammerstein Ballroom when a press rep got word over his headset that nobody would be admitted backstage — perhaps, he said, Jacobs was just worn out? So the group broke up, some leaving by a stage door on West 35th Street. And, like that, Fashion Week was over.