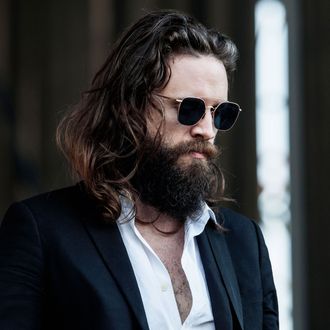 Photo: Gordon Stabbins/Redferns/Getty Images
If Father John Misty used his Twitter and Instagram for anything other than trolling Moon Juice proprietor Amanda Chantal Bacon, it hasn't mattered. The musician's been relentless, starting in July, when he claimed to have stolen her Silver Lake store's beloved rose-quartz crystal in a mocking Instagram post. Later in the month, he celebrated the crystal's freedom, then took to the platform in August to advertise that he was selling rose-quartz earrings.
But Misty's deactivated both his Twitter and Instagram accounts, at least temporarily putting an end to the highly captivating, Über-L.A. feud.
Meanwhile, picture Amanda Chantal Bacon coming across this news while scrolling through her feed with one hand and rubbing her new large crystal with another. A small smile spreads across her lips. "Rohan!" she yells. "Come on, sweetie. It's time to make our favorite chia-seed pudding."
Then again, to no one in particular, in a barely audible whisper: "It's time."