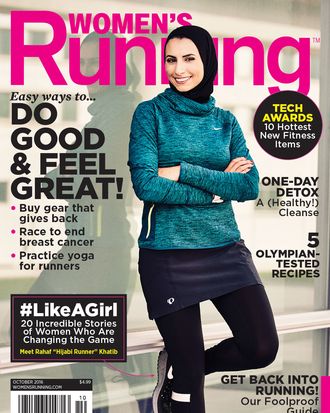 The October issue of Women's Running magazine features Rahaf Khatib, a six-time marathoner and creator of the Instagram account @runlikeahijabi.
Women's Running says she's the first Hijabi woman to appear on the cover of a health or fitness magazine in the United States. The Michigan mom of three was previously a finalist for the 2015 Runner's World cover search.

Khatib told the magazine that being on the cover "means the world to me. It's something I can show to my kids in the future, my community and most importantly my parents. It means that my sweat, tears and training are worth it." She added that she wears the hijab by choice. "A common misconception is that I'm being forced to cover," she said, but wearing it means "following my religion, not my husband."

According to her Instagram, she's currently in Germany to run Sunday's Berlin Marathon. Good luck on your seventh, Rahaf.