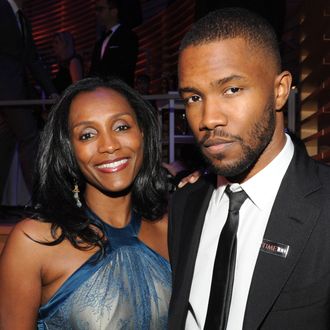 Frank Ocean and Katonya Breaux.
Photo: Kevin Mazur/Getty Images for TIME
Months before Frank Ocean released Endless and Blonde, Katonya Breaux, his mom, launched a skin-care brand. It's an SPF-focused line called Unsun, and Breaux has been thinking about it for two decades, after she experienced sun damage in her early 30s.

Free of the kinds of chemicals that blend seamlessly into dark skin but are mired in controversy, Unsun is a natural sunscreen that is slightly tinted to better suit people of color. Breaux spoke to the Cut about the innovative brand and why it was important to create. And yes, she talked about Frank.
Why did you create Unsun?
I have this one little mole right under my bottom lip — I call it my Marilyn Monroe mole and it was the only one on my face that really stood out. If I went somewhere special I'd darken it a little bit. One day I looked in the mirror and there were five or six moles all over my face. I made an appointment with my dermatologist and when she told me the moles were partly genetics, but mostly sun damage, I was stunned. I was like, Okay you don't have to tell me twice, that was it.

This was many years ago and I went on this crazy protective skin-care thing. I began using chemical-based sunscreens because they were the ones that would blend into my skin, but they were really irritating. I would rub my eye and then all of a sudden my eye would burn and water. I went after a more natural product, a mineral product, but they were so white. Personally, I don't wear makeup every day, only for special occasions, so I guess it might be easier if you're going to put a foundation over the white film, but for me it was just frustrating. It would get into my eyebrows, my hairline, it was just very frustrating.
About three years ago I tweeted: "Can someone make brown sunscreen? Please! Must I look like a clown to protect my skin? #blackfolkburntoo." Shortly after that, I called a friend of mine in the hair-care business and asked if I could meet the folks at their lab. That's how the whole process started.

I had to become educated on OTC and creating a sunscreen and all of the testing and everything that's involved and two years later we got it done. We created a really great formulation, all naturally derived. We went back and forth, making sure it was tinted just perfectly and that it would be universal. Now no one has an excuse not to wear sunscreen.
What makes Unsun different from other sunscreens?
It's a mineral-tinted sunscreen with a universal tint, which is interesting because I created it for me, but it works well for so many people. Two weeks after we launched, we went to a women's expo in downtown Los Angeles and we did demonstrations. It gave the blonde women a faint, bronzy glow, it blended right into the skin of the women with my complexion, and it worked for everyone in between. The active ingredients are zinc oxide and titanium dioxide, so it's not going to irritate your skin and it's not going to penetrate into your bloodstream.
Did you have any background in beauty before you launched Unsun?
I did not. I had a construction company in New Orleans for about 20 years and I have a masters degree in arts administration. This was based purely out of a need and I had to educate myself.
Do you plan to expand the line?
We have a body product in the works. We're trying really hard to create something with more shea butter that's more moisturizing, and that carries an SPF factor. We're working on that now, as well as an SPF lip product.
Do you anticipate on branching out of the sunscreen space later on?
No. Unsun will be a sun-protection brand. Everything we do, we'd like to have some protection in mind. That's the goal.
What other areas in beauty need to improve to better address people of color?
There are some companies doing better, but I don't think it's universal just yet. Women of color, we're just underrepresented in many different areas of fashion and beauty. We're one of the largest purchasing sectors, so we have to be acknowledged. More foundations, more lip colors … M.A.C and Nars do a good job.

There's still a great need. There are multiple other brands that really need to get onboard. It will happen. The voices are getting louder, but of course there's a need.
You have amazing skin. Can you walk me through your skin-care routine?
I wash my face every morning with GlamGlow's mud-to-foam cleanser. I really love it. The one thing that I use every morning, without fail, under my sunscreen, is C E Ferulic Acid. I've been using it for years. I was using a moisturizer, but the last three months or so I stopped using it, so I just put the Unsun directly on top of the ferulic acid and it has worked perfectly for me. At night I use a night cream. I'm using this RoC sensitive-skin retinol thing — the eye cream and the face cream. Then I'll use SkinCeutical's hydrating B5 gel. It locks in the moisture with vitamin B. That's really it. I don't wear a lot of makeup. I wear sunscreen diligently.
Does Frank use the sunscreen?
He does. He's very supportive. He's been using sunscreen for a long time. He takes really good of his skin.
In the same vein as "Be Yourself," where the mother of a friend of Frank delivers advice on how to be safe at school, what's your motherly advice on beauty?
Wear your sunscreen. Don't rub your eyes, and don't pick your pimples. It's easy when you're young — it's what we all do — but they leave scars. And the tissue around your eyes is so thin, it's just not worth it. Just pat them if they are irritating you. And don't let guys put their dirty hands on your face. I know it's cute and it's romantic, but make them wash their hands first.
The next time that happens to me, I'm going to tell them that you said to not do that.
Yeah, you can say: "Just wash your hands first and you can hold my face as long as you'd like."
This interview has been edited and condensed.