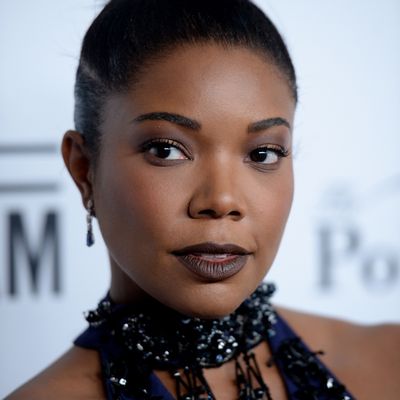 Gabrielle Union.
Photo: Dimitrios Kambouris/Getty Images
On Friday, actress Gabrielle Union penned a powerful op-ed for the L.A. Times addressing the rape allegations surrounding Birth of a Nation's Nate Parker. Union, who was raped at gunpoint in a shoe store she worked at 24 years ago, has a nonspeaking role in the film as a slave who is raped.
"My compassion for victims of sexual violence is something that I cannot control," she writes. "As important and ground-breaking as this film is, I cannot take these allegations lightly."

In recent months, news has resurfaced that Parker, as well as Birth of a Nation co-writer Jean Celestin, were accused of raping a young woman when they were all students at Penn State in 1999. A civil suit claims that the two men engaged in an "organized campaign to harass [the victim] and make her fear for her safety" after she made the allegations. Parker was acquitted in a court case, while Celestin's initial conviction was later overturned. The woman, who suffered from depression in the wake of the incident, committed suicide in 2012.

Union says that, as a survivor, she experienced "stomach-churning confusion" when she heard about the case. She sees it as an opportunity to inform and educate today's young people about affirmative consent (something that Parker also addressed in a recent Ebony interview, saying that only now is he "learning about definitions that I should have known when I started having sex").
She writes:
On that night, 17-odd years ago, did Nate have his date's consent? It's very possible he thought he did. Yet by his own admission he did not have verbal affirmation; and even if she never said "no," silence certainly does not equal "yes." Although it's often difficult to read and understand body language, the fact that some individuals interpret the absence of a "no" as a "yes" is problematic at least, criminal at worst. That's why education on this issue is so vital.
That's why Union and her husband are making it a priority to educate their sons about the issue.
To that end, we are making an effort to teach our sons about affirmative consent. We explain that the onus is on them to explicitly ask if their partner consents. And we tell them that a shrug or a smile or a sigh won't suffice. They have to hear "yes."
Union says she took the role in the film in part to talk about sexual violence, particularly as it affects black women, and to address issues of "misogyny, toxic masculinity, and rape culture" as well as "what should and should not be deemed consent." She hopes that the Parker case serves only to advance the conversation we as a society are having about these issues, which have been increasingly discussed in the wake of high-profile rape cases like that of Brock Turner.
It is my hope that we can use this as an opportunity to look within. To open up the conversation. To reach out to organizations which are working hard to prevent these kinds of crimes. And to support its victims. To donate time or money. To play an active role in creating a ripple that will change the ingrained misogyny that permeates our culture. And to eventually wipe the stain clean.
Read the full op-ed here.