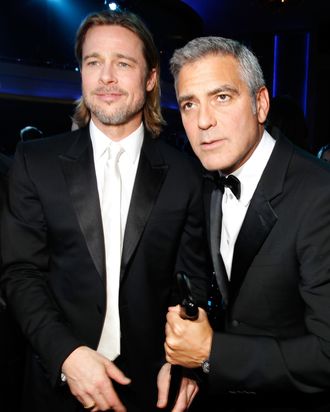 Clooney found out like the rest of us.
Photo: Christopher Polk/Getty Images for VH1
The world might have given a collective gasp early on Tuesday, when news of the demise of Brad Pitt and Angelina Jolie's marriage spread across seemingly every news outlet and social-media platform. Yet, for all the extensive coverage, analysis, mourning, or even I told you so's, it seems there is one person within Pitt's inner circle who was not aware of the end of Brangelina. That man goes by the name of George Clooney.
Clooney, who happens to be a longtime friend of Pitt, has CNN to thank for filling him in on one of the biggest breakups in Hollywood history. The news came to him during an interview he gave CNN while he was at the United Nations Global Summit. In what appeared to be the last question from a longer interview, the CNN reporter sheepishly asked Clooney for his thoughts on Pitt and Jolie's divorce. Clooney didn't catch on at first.
"I didn't know that," Clooney said. "I feel very sorry then. That's a sad story and unfortunate for a family." Then, seeming to think and find the right words, he added, "I feel very sorry to hear that. That's the first I've heard of it."
Clooney might have found out a little later about Pitt and Jolie's divorce, but the man has been pretty occupied with other global, humanitarian issues like the Syrian refugee crisis. The earlier part of his day was spent at a roundtable with his wife, Amal Clooney, President Barack Obama, and CEOs as they discussed pledging money to help with the ongoing refugee crisis. So, all is forgiven, George.