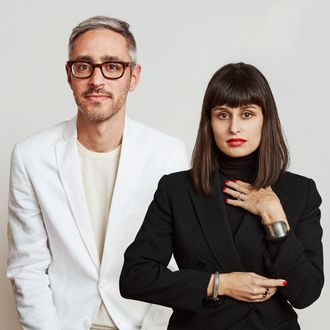 Jeff Halmos and Lisa Mayock of Monogram
Photo: Jason Frank Rothenberg
Graphic T-shirts went through a moment of being considered somewhat uncool or
passé, but they've come roaring back, with Vetements' high-fashion tees deserving at least partial credit. Of course, for aficionados, they never really went away.
Lisa Mayock, formerly one-half of the line Vena Cava, has been collecting graphic T-shirts for as long as she can remember, and has hung on to many of her dad's mid-'80s trove. (Her favorite: a National Lampoon shirt featuring a monkey version of The Mona Lisa.) "They've always been definitely a personal touch point for me," she says, "and I think they're just a great way to make an outfit, especially one that's in more of fashion context, kind of feel less serious and a little bit more playful. It's a great way to lead with your personality."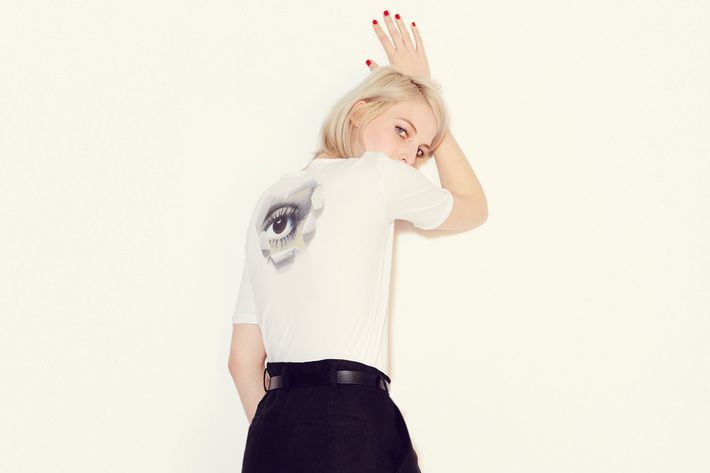 If you have a similar affection for the impossibly soft T-shirts of the time period or are a '70s and '80s graphic design buff, you're likely primed to enjoy Mayock and her husband Jeff Halmos's new line, Monogram. There's a navy shirt with a logo reading "Casual Encounters" whose font "unzips." Another features a black-and-white shot of women's legs in heels alongside the slogan "Click."
Unsurprisingly, a lot of research and design nerdery goes into the process. The two can discourse on topics like surreal Polish movie-poster art for hours. ("There'll be a poster with a shark and someone's face cut in half with rainbow coloring, and it's the poster for E.T.," says Mayock appreciatively.) Their inspirations include "random found imagery from blogs, or something in the library where we're like, 'Oh this is a great typeface. This would look so cool if we did XYZ to it,'" says Mayock. They're also more likely to name-drop graphic-design legends like Milton Glaser, Bob Gill, and Herb Lubalin than fashion designers.

The two have years of experience in the industry (Halmos co-founded Trovata and Shipley & Halmos), and saw a space in the market for a direct-to-consumer T-shirt business in this vein. "T-shirts are a really democratic item. They fit lots of different people," says Mayock. Halmos adds that since they launched their website a few months ago, the buying patterns have surprised them. "Some of the more random graphics where we thought, Oh man, no one's gonna buy these, have sold really well. And others where we thought, This is gonna be a top seller! have just sold okay."
They made a point of not styling any of the pieces with jeans. Explains Mayock: "While we love jeans and a T-shirt and it's definitely classic for a reason, we just both felt like there are so many cool women on the street wearing graphic T-shirts or sweatshirts more in a fashion context. Something that felt really important to us was to help the customer understand how to wear these things in different ways: 'You definitely can wear a sweatshirt as part of an evening look, and here's how.'"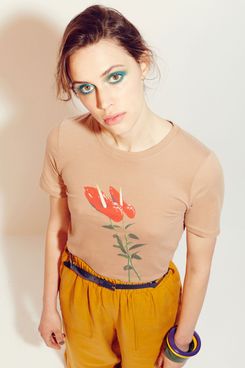 The couple also operates one of the best fashion Instagrams around — @thisismonogram, helmed by Halmos. It's light on product imagery and more like a public mood board, but instead of the same old shots of Kate Moss or Bianca Jagger, you'll find things that jibe perfectly with the funny/sexy/weird vibe of the line, like pages from Eros and Lui magazines or a shot of Grace Jones wearing forks as earrings. "Our influences extend far beyond fashion," says Halmos. "We think that it's more interesting for a customer [than] if they came to our Instagram and they just saw a million pictures of our T-shirts. They can go to our website to see that."