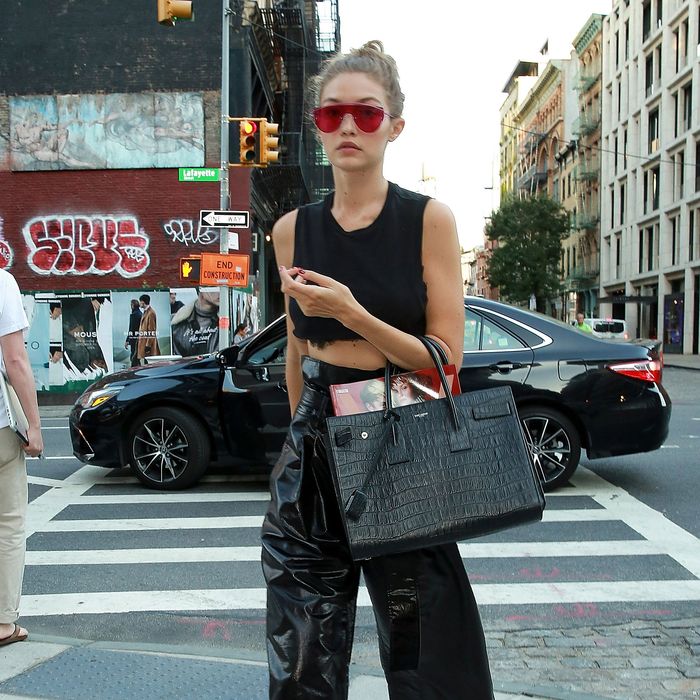 Gigi Hadid living that NYC life.
Photo: Pierre Suu/GC Images
On Gigi Hadid's days off from contractually obligated Taylor Swift squad duties, the supermodel lives the life of a true New Yorker hanging out in hole-in-the-wall spots that only locals know about.
In a new interview with Harper's Bazaar, Hadid shared how she spends a typical day off in New York City. Like everyone else living in the Big Apple, Hadid loves hanging out in heavily saturated tourist spots and painting pottery at the same place your mom and her friend Pat always hit up on Sundays after a couple glasses of Chardonnay.
"I had my birthday parties at a Color Me Mine [pottery studio] in L.A. when I was a kid, so now on my days off in New York I'll get coffee with some friends and go to Color Me Mine and sit there for, like, five hours and paint really detailed mugs or whatever," Hadid told Harper's Bazaar.
The supermodel also revealed that her favorite places in New York are South Street Seaport (where, coincidentally, Tommy Hilfiger recently hosted the New York Fashion Week show for his collaboration with Hadid, Tommy x Gigi) and skyscrapers. Ah, yes, New York: greatest city in the universe.