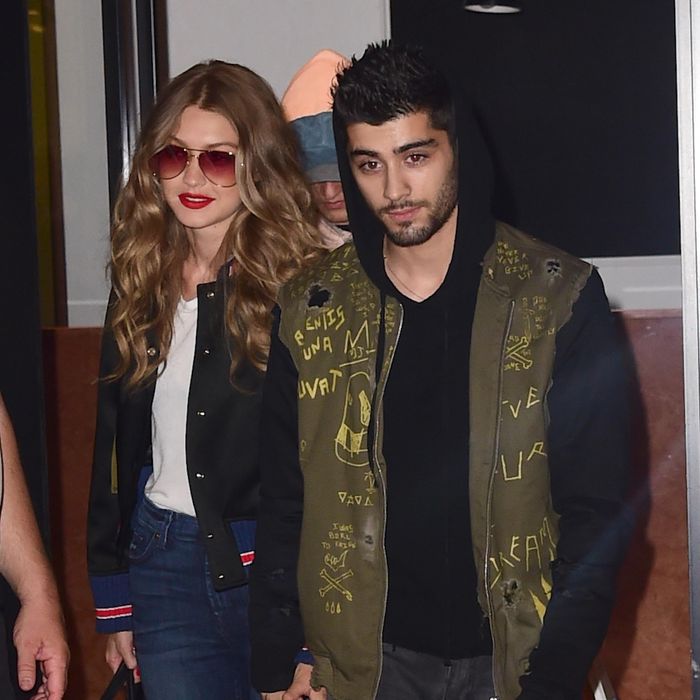 Gigi Hadid and Zayn Malik.
Photo: Raymond Hall/GC Images/Getty Images
Lest you think Gigi Hadid and Zayn Malik's relationship is merely skin-deep, the supermodel would like you to know that she and the anxious 1D alum actually have a lot in common.

"For the first time, we are both in a relationship where we have very similar interests outside of work and that is really important," Hadid told ES magazine. "We cook a lot together and do art together and we're each other's best friends."
Of course, she also likes the fact that he's British.

"I think we both like the British sense of charm," Gigi said of her and Taylor Swift's mutual interest in the English. But while Hiddleswift may be no more, Gigi's anglophilia runs so deep that Zayn actually helped her discover her love of "British foods," such as canned beans, and Indian chicken curry.
"I'm also getting super into British foods," said Hadid, expressing a sentiment shared by approximately zero British people. "I'm loving Heinz baked beans in the morning, yeah and Z cooks a lot. He makes a brilliant curry. Butter chicken is his signature dish. Don't worry — he's representing good for the British boys!"
If anything can deter Taylor Swift from third-wheeling next date night at the Malik-Hadid household, the smell of "Z" frying up a big ol' pot of baked beans at 8 a.m. might do the trick.