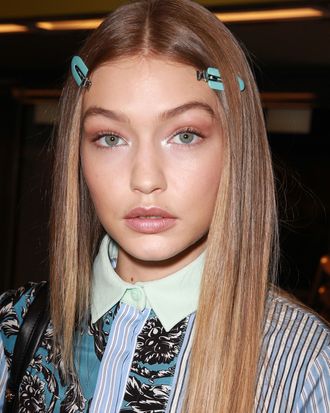 Gigi Hadid.
Photo: Antonio de Moraes Barros Filho/Getty Images
It was just last week that Gigi Hadid fought off a creepy man who grabbed her as she left the Max Mara show during Milan Fashion Week.
The assault, which happened in front of the paparazzi, made headlines — primarily because the supermodel fought him off like the expert boxer she is, with an elbow to the face.
Gigi opened up about the incident in an interview with Lena Dunham for Lenny Letter. She attributed her swift reaction to the attack to muscle memory developed after she started boxing two years ago.
"Since then, I hadn't been in a situation that forced me to fight back, but it just came out when he grabbed me — it wasn't a choice. I do have that fighter in me," Gigi said.
The supermodel told Lenny Letter that she hopes girls see the video of the attack, and realize how important it is to practice and learn self-defense. Gigi added that other people "are put in much worse situations" every day, and that all women have the right to fight back.
"I just want to use what happened to me to show that it's everyone's right, and it can be empowering, to be able to defend yourself," Gigi said.