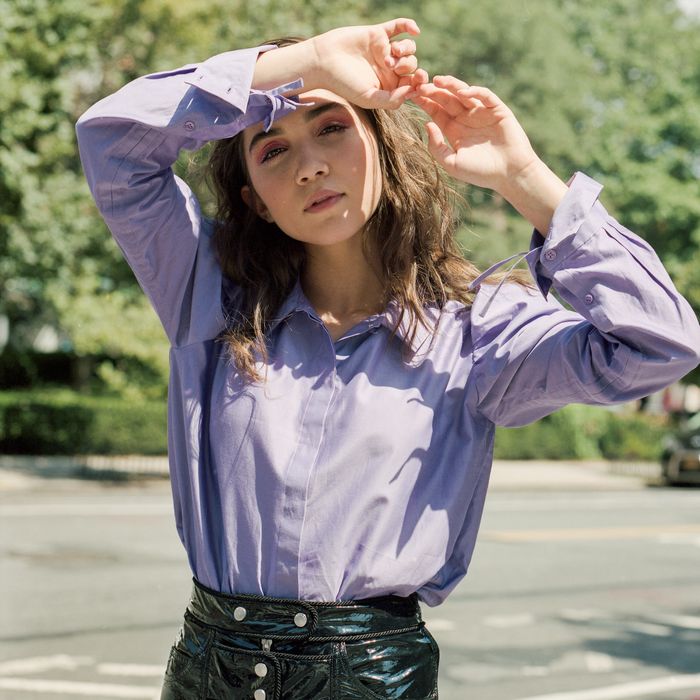 At the end of last night's funny, political Opening Ceremony show, hosts Carrie Brownstein and Fred Armisen asked all of the celebrities onstage why it was important to vote. When they came to Rowan Blanchard, star of Girl Meets World, she said simply "Vote for my future" — a reminder that the eloquent actress who had just schooled the audience on intersectional feminism is still years away from being legally able to cast a ballot.
Spending time with Blanchard, it's hard to wrap your mind around the fact that she's only 14 years old. She's knowledgeable and mature, with a firm grasp of how she'd eventually like to change the world. And her starring role as Riley Matthews on Girl Meets World has given her a platform for fighting for the rights of others.
Blanchard is well aware of the influence she wields on the show, which picks up where the underrated '90s teen sitcom Boy Meets World left off. "When we started filming the pilot, I went back and watched episodes [of Boy Meets World] and I realized this was special because it was television that was aimed toward children but was talking to them — rather than talking down to them — and making these lessons inclusive. There are some things on that show that you just don't see anymore."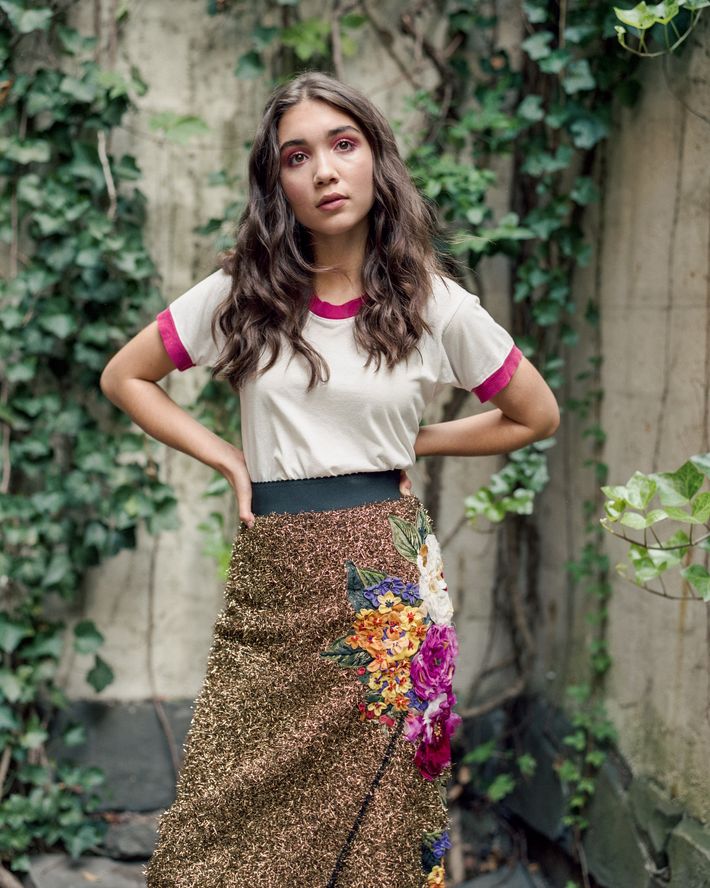 Camp Collection T-shirt, $38 at Camp Collection; Dolce & Gabbana skirt, Price Upon Request at Dolce & Gabbana.
For example: Topanga, the love interest on Boy Meets World, was one of the era's few non-sample-size actresses on a mainstream show — meaning that a generation of kids got to identify with an average-size girl as she grew up on-camera. Rowan says, "I noticed that too! A lot of shows today just teach children not to eat, so that they can be skinnier to be on television. Topanga still is this strong character that's so independent and drives her own stories. Actually, Danielle Fishel [who plays Topanga on both Boy and Girl Meets World] directed and produced a new episode, and it was amazing to see her now directing, producing, and writing her own stuff. As someone who wants to do that in the future, it was inspiring to watch."
Rowan is passionate about directing, but for now, working with a female director as an actress is just as much of a priority for her. "There's something different about when a female directs versus a male. The level of maturity, mutual respect, and energy that you get from a female director is so different. I've worked with male directors who aren't good, and no one says anything about it, but then we had one female director who was kind of all over the place and everyone complained. It's so gendered. I feel safer when working with a female director because I know it's from a female gaze."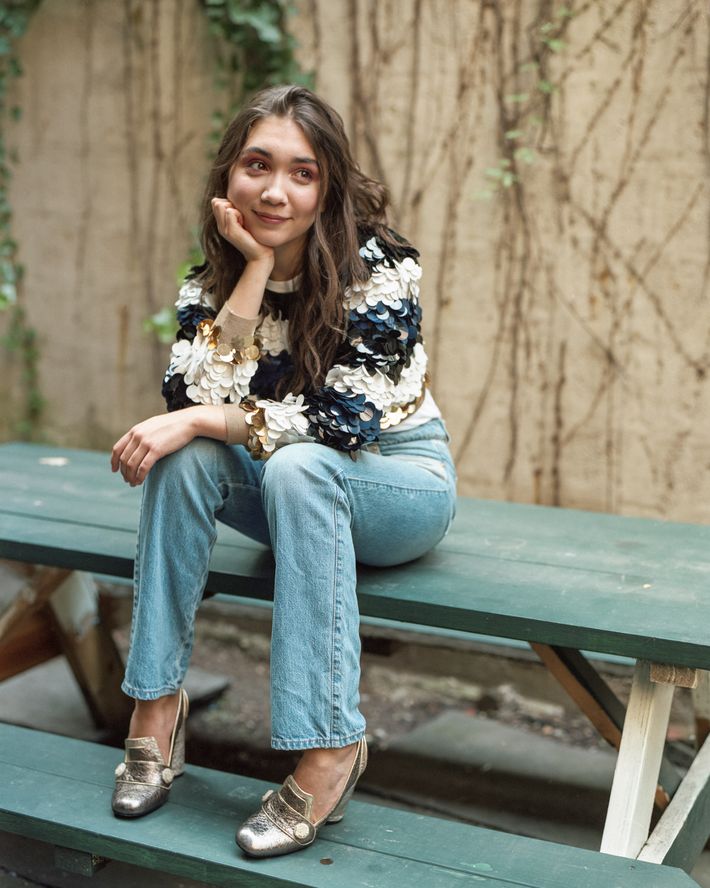 Sonia Rykiel Sequined Sweater, Price Upon Request at Sonia Rykiel; Sonia Rykiel Jeans, $460 at Sonia Rykiel; Tommy Hilfiger Collection Shoes, Price Upon Request at Tommy Hilfiger.
Terms like the female gaze appear frequently in conversation with Rowan. Her nuanced understanding of gender discrimination is part of what's driven her rise to fame — what other 14-year-old is making headlines talking about intersectional feminism? She says she started her deep dive into feminism by watching the news and realizing that over and over, certain things only seemed to happen to certain types of people.
"I started to have conversations with women around me and I had always heard the word feminism with a negative connotation. I remember I saw something about equal pay in Hollywood and the writer used the word feminism in the article. And at first I was scared, and thought it was a horrible word. Around the same time Emma Watson had her speech at the United Nations, and that gave me some clarity," she explains.
"My first definition of feminism was so small: Men and women should be equal. And maybe that's how you have to learn it, so that it can be more accessible. But then I started discovering Audre Lorde and Angela Davis and all of these intricacies of feminism that were not being presented to me by these white feminist 'icons.' It was only then that I realized how deep it is and how it's more about undoing these walls that we have built around marginalized people — it's not just about women and men. It's the fact that the walls for me are different than the walls for Amandla [Stenberg]."
Now, she says, she'd define feminism like this: "Undoing patriarchal structures against marginalized people — structures that fight against people of color, that fight against women, that fight against disabled people, that fight against LGBTQ."
Even realizing those structures exist is a first step: "It's understanding, when people make signs that say 'Girl power! You can do anything you want! Believe in yourself!' that, while I sincerely hope you do believe in yourself, here are a bunch of reasons why the world has made it hard for some people to do what they want to do."
As if this weren't self-aware enough for someone born in the year 2001, she goes on to explain that she's not an expert: "I'm still realizing so much of it. To say that I know everything about feminism would be the biggest lie! It's such a learning process and so much of it is listening."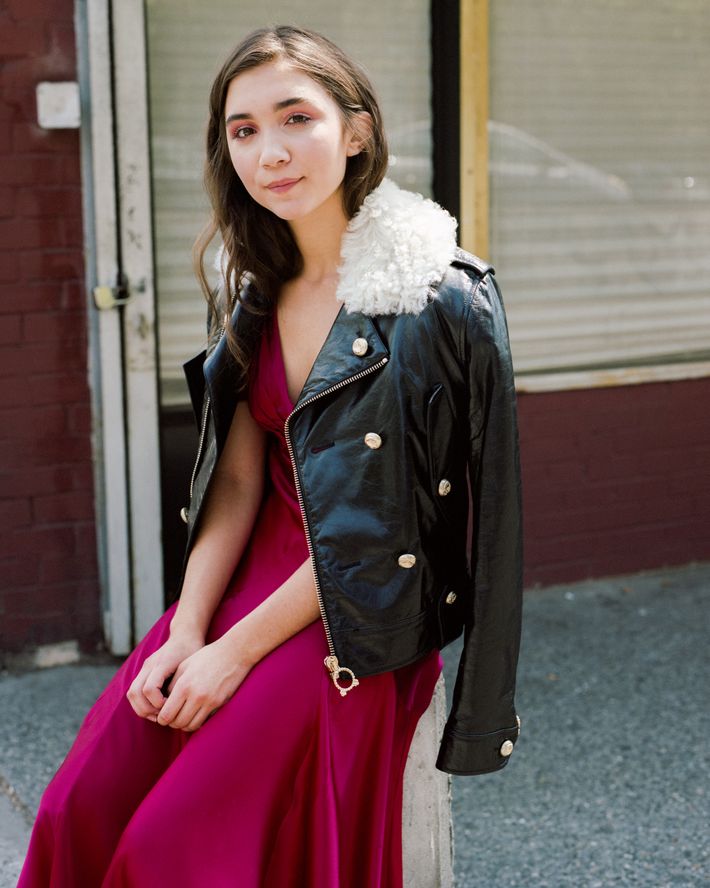 Tommy Hilfiger Collection Leather Jacket and Dress, Price Upon Request at Tommy Hilfiger.
As a young woman in Hollywood, Rowan says her experience has been full of support from other women in the industry. There's an invisible sisterhood, she says, because of all the horror stories that have now been publicized. "Reading scripts that have a really good cast and there's a rape joke in it, it's really upsetting. That and having the Woody Allens of the world, and people continue to work with them and nobody cares. It's not a secret — everybody knows what happened but it doesn't matter."
"It's such a hunting ground for women because in the movies we watch, women are just there to be around the men and fill a spot," she says. "Look at the Bechdel test" — which asks whether a film features at least two women talking to each other about something other than a man. According to a study by Fusion, almost half of 2015's top movies failed the test. If you add the requirement that the two female characters must have names, the results are even worse.
While she could talk about women's rights all day long, Rowan admits she's tired of media baiting her against other women for the sake of headlines. "My least favorite question is being asked about Meryl Streep saying she's not a feminist. We can't expect every celebrity to be 100 percent aware of what's going on socially, and when they give answers that aren't educated or well-thought-out, it doesn't further feminism or equality, so there's no point in asking. I'm not thinking about who doesn't consider themselves a feminist; I'm thinking about who does and who's talking about it, and how awesome that is, and how they're using their space to make more."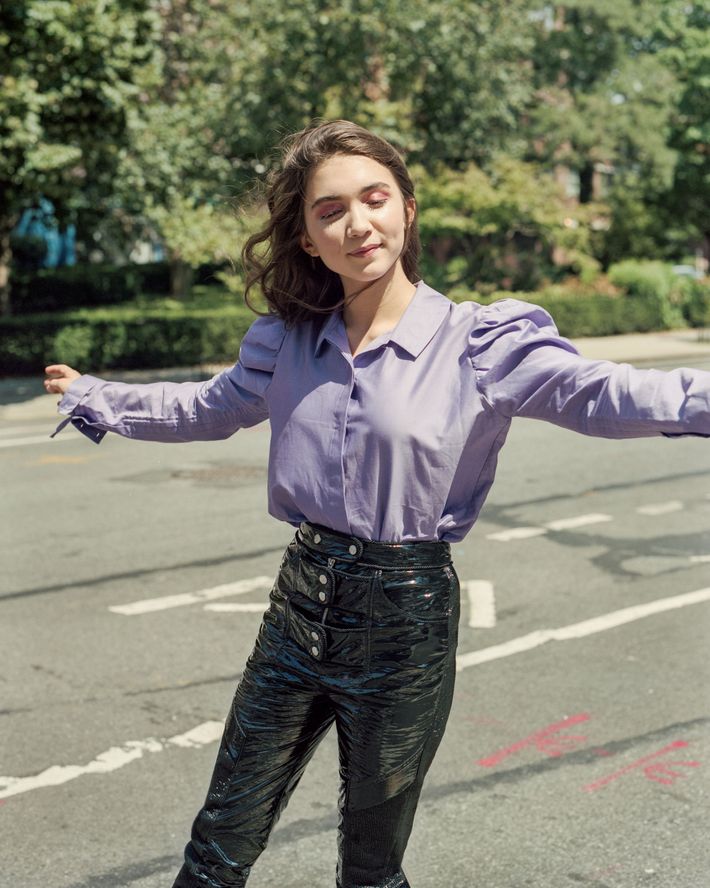 Kenzo Top and Pants, Price Upon Request at Kenzo. Similar Kenzo Top, $625 at Kenzo, Similar Kenzo Pants, $760 at Kenzo.
Luckily, journalists have stopped asking about her weight — a question she used to get at the age of 12, when she first started on Girl Meets World. But they haven't stopped asking about her sexual orientation, her private life, or what her advocacy really means. "I feel like my generation in particular isn't interested in labels because it's just prescribing to something that is false, and that is not organic. I just don't feel like subscribing to heteronormative standards that I have no interest in. And I talk to a lot of people who are in the business, and feel the way I feel, but don't want to talk about it publicly."
To keep sane regardless of the circus around her, she says she likes listening to Beyoncé, singing show tunes, and playing with fashion. "I was always into fashion. How awesome is it that the way you dress can almost make you a different person? There was a phase when I literally tried to dress like a flower," she goes on, suddenly sounding very young. "I wore green leggings and brown shoes to be the dirt. I fully committed and had someone take a picture above me."
But the next minute, she's back to being wise beyond her years: "Right now, I'm really inspired by the Rodarte girls, Aurora James, and Miuccia Prada because I like when people are obsessed with making women feel good and not cater to anyone else."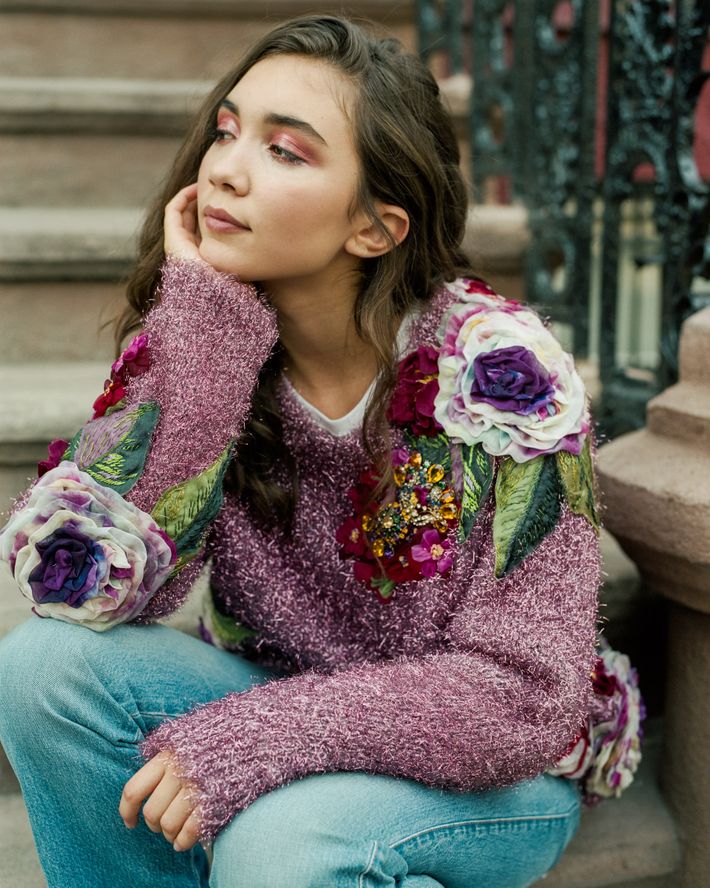 Dolce & Gabbana Sweater, Price Upon Request at Dolce & Gabbana; Sonia Rykiel Jeans, $460 at Sonia Rykiel.
Photos by Andre Wagner, Makeup by Samantha Lau, Hair by Jerome Cultrera.