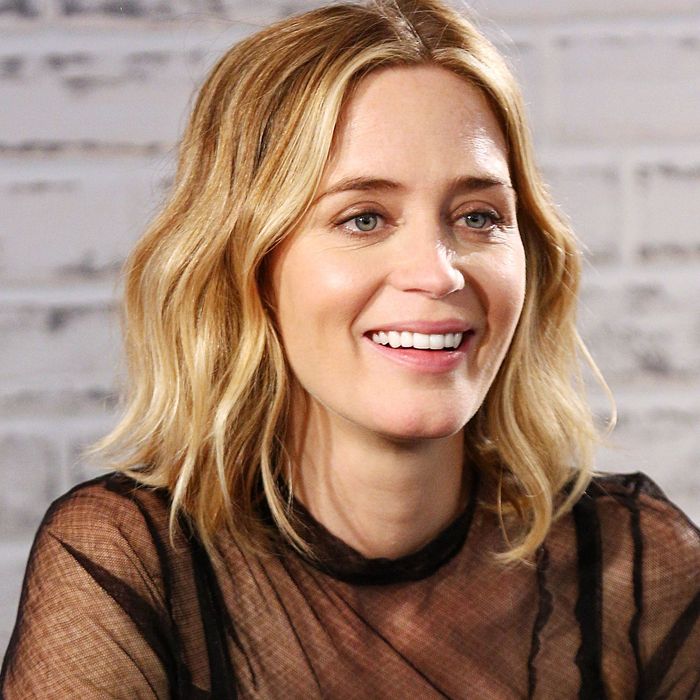 Emily Blunt.
Photo: Tim P. Whitby/Getty Images
In her upcoming thriller The Girl on the Train, out October 7, Emily Blunt plays Rachel, a lonely alcoholic with stalkerish tendencies who finds herself embroiled in another couple's life after a heinous crime is committed while she is blackout drunk (who among us?).

Speaking to THR, Blunt champions the film as an upending of traditional gender stereotypes.
"A woman is a drunk, a whore, whereas the guy's like a partyer, a player," the actress says. "I've been around both women who drink too much and guys who drink too much and it's just as ugly on the guys. It makes me crazy. I don't think that women should be seen as any less sexual than a guy. And maybe she doesn't want to settle down, and that's OK. And maybe she doesn't want a kid, and that's OK. And she's just happy playing the field. There's so much judgment with women."
As Rachel, Blunt joins the wave of so-called "unlikable" female characters who have recently dominated the film and TV landscape, from Trainwreck to Fleabag. "With so many movies, women are held to what a man considers a feminine ideal," Blunt explains. "You have to be pretty. You have to be 'likable,' which is my least favorite bloody word in the industry. Rachel isn't 'likable.' What does that mean? To be witty and pretty and hold it together and be there for the guy? And he can just be a total drip?"
Admittedly, Blunt's movie-star good looks seem a little unsuited to the dowdy character described in the book, but novelist Paula Hawkins — who did not write the screenplay — claims that her appearance is irrelevant.
"People say, 'Oh, she's way too beautiful to play her.' But that doesn't matter. The thing about Rachel is her self-loathing, about what she feels about herself, and Emily really brought that out in the way she carries herself," says Hawkins. "All that damage is visible."